Detroit Pickup Sales Drop in Bad Omen for Industry's Cash Cows
By , , and
Chevy, GMC and Ram full-size trucks each fall by at least 15%

F-Series bucks trend, but Ford's total sales miss estimates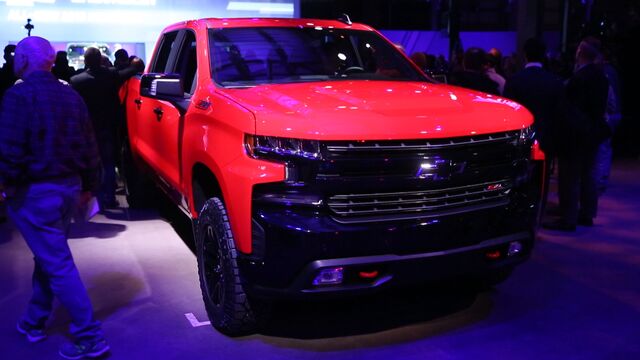 General Motors Co. and Fiat Chrysler Automobiles NV reported hefty sales declines for their big trucks, a troubling sign for a lucrative segment that had been holding up well as the broader U.S. auto market shrinks.
Deliveries of Fiat Chrysler's Ram pickup and GM's Chevrolet Silverado and GMC Sierra trucks each fell by at least 15 percent in February. While the industry-leading F-Series line bucked the trend with a small increase, Ford Motor Co.'s total sales still missed estimates.
Detroit's pickups are some of the auto industry's most profitable product lines, commanding average prices exceeding $40,000 per truck. Tepid demand for models that consistently rank among the top-sellers in the U.S. market was a major contributor to total U.S. vehicle deliveries decelerating last month to the slowest pace since Hurricane Harvey ravaged dealerships across the Texas Gulf Coast in August.
"It was a challenging month," Jeff Schuster, senior vice president of forecasting for LMC Automotive, said by phone. "It's a continued, steady softening of the market."

Most major carmakers fell short of expectations and posted steeper decreases than analysts were projecting. The annualized rate of sales, adjusted for seasonal trends, slowed to about 17.1 million cars and light trucks last month, according to researcher Autodata Corp. That's down from 17.5 million a year earlier.
"This year is going to be a bitter but necessary pill for the auto industry to swallow," said Jessica Caldwell, executive director of industry analysis at Edmunds. "The industry is still in a fairly healthy place, but it may not feel like it since the last few years have been in record territory."
Truck Surprise
GM shares slumped 4 percent, Ford fell 3 percent and Fiat Chrysler dropped 2.8 percent at the close Thursday in New York. The stocks of all three companies extended declines after President Donald Trump said the U.S. will impose tariffs of 25 percent on steel and 10 percent on aluminum imports.
Trump's Tariffs Deal a Blow to Already-Shrinking U.S. Auto Sales
The weak month for GM and Fiat Chrysler's pickups may have come as a surprise. Brian Johnson, a Barclays analyst, last month projected that large trucks' share of total U.S. sales will rise to 13.7 percent in 2018, from 13.3 percent last year, as a stronger economy and business-tax cuts help buoy big-vehicle demand.
GM and Fiat Chrysler are both overhauling their pickups this year, though neither company's redesigned models have arrived yet in showrooms. GM is expanding its pickup beds, with the GMC Sierra -- revealed for the first time Thursday -- offering a lighter-weight carbon fiber box. Unlike with Chevy trucks, the Sierra's tailgate also can be positioned to stop cargo from sliding out, slide in for easier access or folded down to form a step or bench.
Fiat Chrysler's new Ram 1500 will drop about 225 pounds, even as it gets longer and wider, and executives have said fuel economy should improve by about 10 percent.
Fleets, Incentives
The Ram brand's rough showing was explained in part by cutting back on deliveries to fleet customers by 44 percent last month. Light-duty pickup sales to retail buyers gained and set a record for February.
Ford, whose F-Series line had its best February in 18 years, said its rivals didn't fare as well because they pared steep discounts offered in previous months.
"What we saw was that our competitors have pulled back from some pretty aggressive incentive spending," Erich Merkle, Ford's U.S. sales analyst, said on a call with reporters. "We've been really consistent on our incentives."
Toyota's Rise
Toyota Motor Corp. was the only Japanese automaker to beat estimates. Deliveries jumped last month for the two top sellers in the company's lineup, the Camry sedan and RAV4 crossover. Honda Motor Co. posted a 5 percent decline as sales slumped for two of its leading models, the Accord sedan and CR-V crossover.
Nissan Motor Co. missed estimates, with sales dropping 4.3 percent. While Titan deliveries climbed, the truck remains a small player in both the company's own lineup and within the broader pickup market. Altima sedan deliveries fell 26 percent.
The industry may have curtailed record levels of incentive spending for the first time in more than 40 months, according to Judy Wheeler, Nissan's vice president of U.S. sales.
"We've definitely pulled back, and I think other manufacturers are probably thinking, 'OK, enough's enough,'" she said.
— With assistance by Keith Naughton
Quotes from this Article
Before it's here, it's on the Bloomberg Terminal.
LEARN MORE