climate-changed
It'll Take $94 Billion for These Companies to Go 100% Green
By
Businesses need to add 87 gigawatts of wind, solar by 2030

RE100 companies have committed to using 100% clean energy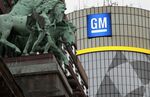 For 125 of the world's major companies to make good on their pledges to source power exclusively from renewable energy, they'll have to spend $94 billion.
That's enough to add 87 gigawatts of new wind and solar power worldwide, comparable to the U.K.'s existing power fleet, according to a report Thursday by Bloomberg New Energy Finance.
Companies from 20 countries have joined the RE100 campaign since it was launched in 2014, committing to be fully renewable. Most have set a target of 2030 or earlier. Many are not there yet, and their demand may spur construction of new wind and solar farms around the world.
"The clean-energy demands of these corporations will catalyze billions of dollars in clean-energy investment," Kyle Harrison, a New York-based analyst at BNEF, said in an interview. "Corporations can have a real say in power-market design."
Visa Inc. and Japan's Daiwa House Industry Co. signed on for the RE100 on Wednesday. They join existing members that include furniture retailer Ikea, brewer Anheuser-Busch InBev SA, General Motors Co. and Johnson & Johnson. Bloomberg LP is also an RE100 member.
Corporations' growing need for clean energy means that there will be a market for wind and solar power, even in markets with sluggish electricity demand and in countries that are cutting subsidies. They've already signed more than 14 gigawatts of renewable-power contracts since 2015, including a record 5.4 gigawatts last year, according to BNEF.
Not all of the RE100 members will meet their commitment with 100 percent clean power, according to the report. Many of the companies have used certificates or utility contracts to help satisfy their pledges.
Alphabet Inc.'s Google has agreed to buy power from more than 3 gigawatts of clean power plants globally, making it the biggest corporate buyer of renewable energy.
"For the companies, it's not just about the perception of being sustainable," Harrison said. "There are real economic reasons to buy renewables."
Before it's here, it's on the Bloomberg Terminal.
LEARN MORE