politics
Hungary's Premier Sounds Alarm on Risk of Opposition Resurgence
By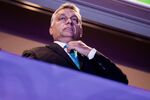 Hungarian Prime Minister Viktor Orban regards his party's defeat in a municipal election last weekend as an "alarm bell" before a nationwide vote in April as the opposition is overcoming its fragmentation, according to an interview with provincial broadcaster Miskolc Televizio.
Orban, whose Fidesz party leads opinion polls by a wide margin, expects his opponents to replicate their strategy of backing joint candidates, which worked in the local election in Hodmezovasarhely, which has been a ruling party stronghold for decades.
Orban stuck to his script of singling out immigration and Hungarian-born financier George Soros as his main foes, alleging that the cooperation among opposition politicians amounted to a "pact" to implement what he calls the "Soros plan" to inundate Hungary with immigrants, which Soros denies.
"I expect to see the same situation everywhere as we saw in Hodmezovasarhely," Orban said according to the transcript of the interview. "They will find the one person in each place to represent the opposition in the elections, someone who had signed the pact."
Before it's here, it's on the Bloomberg Terminal.
LEARN MORE