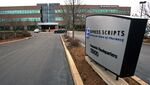 Pharmacy benefit manager Express Scripts Holding Co. will lose its biggest client, Anthem Inc., in 2020 -- and that is far from its only issue.
Express Scripts shares fell on Wednesday after the company offered disappointing earnings guidance for the fiscal first quarter. The PBM said its total adjusted claims declined in 2017 and that they could fall again this year.
A sustained growth turnaround may be tough for Express Scripts to achieve, and not just because Anthem is leaving. The company forecast a 96 to 98 percent client-retention rate for 2019 -- ambitious, given that a substantial portion of deals with potential clients still need to be settled. And holding on to clients is likely to get tougher.
Amazon.com Inc. reportedly contracts with Express Scripts for pharmacy benefit services and seems likely to head out the door at some point as its health-care joint venture with Berkshire Hathaway Inc. and JPMorgan Chase & Co. matures. That venture may be a model or eventual partner for other companies who want to shed or narrow the scope of PBM contracts. 
Not only is Anthem possibly irreplaceable as a client, the threat of integrated competitors is rising. Express Scripts rival CVS Health Corp. is purchasing Aetna Inc. Meanwhile, Anthem Inc. is partnering with CVS as it creates its own PBM. UnitedHealth Group Inc.'s OptumRx PBM is growing rapidly. And Cigna Corp. and Humana Inc. operate in-house PBMs.
Express Scripts CEO Tim Wentworth said on Wednesday's earnings call that it's "way too early for CVS-Aetna to have had any real impact." Investors hoping for a major deal by or for Express Scripts didn't respond especially well to this perceived dismissal of vertical integration. And CVS-Aetna's impact will be felt soon enough.
These hybrids may offer employers larger and more comprehensive savings than a standalone PBM. They have a captive client base, and they can generate significant benefits for other parts of their business. Express Scripts made a nod in this direction with its $3.4 billion acquisition of medical benefit management company eviCore, but only a small one. 
Express Scripts has managed to widen its Ebitda margins from 5.4 percent in 2010 to 7.41 percent percent in 2017. But additional margin expansion will be tough. The firm is set to lose a big portion of its negotiating scale because of the loss of Anthem. Cost-cutting has limits, as does squeezing more profit out of clients and rebates. The company's PBM business is already more profitable than those of its principal rivals in an environment of increased drug-price scrutiny.
Drugmakers blame PBMs for driving higher prices because they take some of the rebates they negotiate on behalf of clients. The Trump administration seems amenable to that argument; its recently proposed federal budget contained drug-cost-control proposals that seem to be aimed at PBMs.
The extent to which this criticism is fair is up for debate. It's drugmakers that hike prices, set high initial prices, and work to prevent fully competitive markets for their drugs. PBMs are an important counterbalance in the absence of government intervention. 
Express Scripts has been successful at slowing drug spending: Its commercial clients saw the lowest inflation in drug spending in years in 2017. Part of that was due to external factors, but the company's aggressive negotiation on behalf of clients deserves credit. 
The question is whether the profits reaped from those efforts are excessive. You wouldn't come to that conclusion just by looking at the company's reported margins. But the way PBMs account for revenue may artificially depress those figures.
A Bernstein analysis highlighted by The Wall Street Journal's Charley Grant used a different profit metric -- the rate at which gross profit converts to Ebitda-- and found PBMs are substantially more profitable than drug distributors and insurers.
Arguably, that very profitability is what's driving Anthem away from Express Scripts, while inspiring Amazon's new venture and the rise of smaller PBMs that play a relatively narrower and cheaper administrative and processing role. Express Scripts' outlier size and independence puts an extra-large target on its back for criticism and competitors.
In that context, the company's seeming hostility to vertical integration is puzzling and seems unlikely to last. Whether through making acquisitions or putting itself on the block, it needs to shed its conviction that its standalone model is superior and that its current profitability is sustainable. 
Before it's here, it's on the Bloomberg Terminal.
LEARN MORE