Cold Snap Triggering Gas Crisis in U.K. Shows Rising Supply Risk
By and
Market less flexible to absorb shocks than in previous years

Lack of storage capacity, Brexit signal volatile prices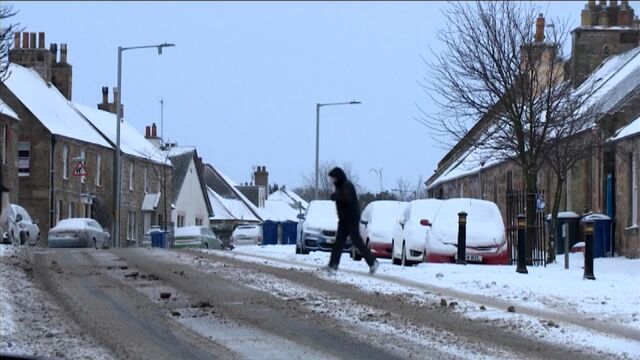 The cold snap rattling energy markets across Europe has revealed Britain's vulnerability to natural gas shortages driven by a lack of capacity to store the fuel.
At the moment when the U.K. most needed a supply cushion to smooth out a surge in demand for gas and power, Centrica Plc announced a 12-hour outage at its Rough gas storage facility under the North Sea. Gas prices for immediate delivery more than doubled to their highest in almost a decade as an Arctic chill and heavy snow drove up demand for heat and electricity. 

Britain is Europe's biggest gas consumer after Germany. Once a major gas producer, the U.K. increasingly relies on imports during winter months as output from the North Sea falls. It's a risky dependency when it's cold across Europe, like this week when a mass of Siberian air pushed in from Italy to Scandinavia.
"It certainly shows the vulnerability of extreme events," Nick Campbell, energy risk manager at Inspired Energy Plc, said by email. "Our only other form, LNG, is not flexible in the short term. It takes time to arrive from its destination, therefore the one thing you can guarantee is volatility."

Previously, Rough would have provided a buffer for supply shocks. The aging gas facility is due to close in the coming years and is increasingly less available. Without Rough, the U.K. is more reliant on costly liquefied natural gas -- or supplies from continental Europe where the government is renegotiating its trade links.
Demand for gas was so high on Thursday morning that National Grid Plc asked large industrial customers to scale back consumption. Centrica's announcement on Rough led to a further surge in prices. U.K. Energy Minister Claire Perry said domestic gas supplies won't be affected.
"I have spoken to National Grid this morning, and we are in constant contact to monitor the gas supply throughout this extreme weather," Perry said in a statement. "So do carrying on using your gas heating and cooking meals as normal."

Norway, another big gas supplier, also had outages at some key facilities. And LNG shipments to Europe this season have been scarce as a surge in demand in China pushed up the cost of the super-chilled fuel. The last liquefied natural gas tanker to arrive in the U.K. was a week ago and it takes about two weeks to ship the fuel from Qatar, the world's biggest producer.
That left the U.K. with little room for maneuver when the cold arrived this week and drove up demand across the continent. Britain isn't suffering alone. Prompt gas prices in the Netherlands have surged to more than four times the level on the same day last year, according to data from the Pegas exchange, after demand rose there with the cold. Dutch grid authorities are having their own troubles as they wind down output from the Groningen field, which is the biggest in Europe.
Big Buffer
In the U.K., the Rough facility was able to meet as much as 10 percent of the nation's daily peak winter demand. Wells in the field have been deteriorating, increasing the risk of leaks and leading Centrica to plan its closure. The facility is unavailable for gas injections. That means Centrica now is only withdrawing gas that remains at the site, and even that process is subject to hiccups like the one this morning.
"Rough is not currently producing due to extreme weather conditions offshore where unprecedented wind chill factors which have adversely affected equipment," Centrica said in a statement. "Personnel have been working in atrocious conditions since 5 a.m. to try and restore the service."
The loss of Rough forces utilities to compete for supplies, and industry groups expressed concern about shortages. One alternative is Russia, Europe's dominant supplier. Pipelines carrying gas from Siberia link to Western Europe in Austria, Germany and the Czech Republic. Another is buying LNG, which must be shipped by tanker from distant producers such as Algeria and Qatar.
Industry Concerned
"The closure of Rough has changed the landscape for U.K. gas storage. and today that landscape looks very bleak for major energy users such as U.K. manufacturing industry," Mike Foster, chief executive officer of the Energy and Utilities Alliance, a trade association, said on the organization's website. "Prices have rocketed, hitting British industry particularly hard. If supply is interrupted, it will be the industry that has to stop production to protect consumers and their heating needs."
Flows from Belgium and the Netherlands have already increased above levels seen in previous 10 days, although an outage at one of the pipelines linking the U.K. with continental Europe reduced capacity on Wednesday.
Surging prompt prices will push factories and power stations to cut their use and sell spare supplies back into the grid. Even so, natural gas was the dominant source of electricity in the U.K. power generation network on Thursday afternoon.

Gas use by power plants has already declined as the nation that's on course of phasing out coal plants switched on its dirtier-fuel generators and output from wind turbines is also on the rise.
"Price surges could be even higher once the U.K.'s remaining coal plants have closed, especially if wind output is low," said Jeremy Nicholson, director of the Energy Intensive Users Group, an industry association. "We are heavily reliant on gas to keep the lights on."
— With assistance by Jeremy Hodges
Quotes from this Article
Before it's here, it's on the Bloomberg Terminal.
LEARN MORE