De Blasio's New Schools Chief Changes His Mind a Day After Announcement
By
Alberto Carvalho, Miami-Dade's star superintendent, backs out

NYC Mayor de Blasio had agreed to pay Carvalho $335,000 a year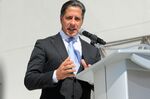 New York Mayor Bill de Blasio's pick to be chancellor of the city's school system, the largest in the U.S., has turned down the job.
A day after de Blasio announced the appointment, Miami-Dade Schools Superintendent Alberto Carvalho reneged on their agreement, saying he couldn't resist "the emotional tug" of the city where he led the schools for a decade, hailed for achieving a high school graduation rate of more than 80 percent.
Carvalho, who was born in Portugal in the mid-1960s and came to the U.S. as a teenager, turned down a job for which he'd been slated to be paid $335,000 a year. He described New York's chancellor position as the "most impactful" education leadership position in the nation, leading a school system of about 1.1 million students with a budget of more than $20 billion a year.
His change of heart appeared to take shape during an emergency meeting of the Miami Board of Education, in which each member took turns praising him and asking him not to leave. He then gave an impassioned speech professing his love for Miami and its schools, breaking it off after more than 20 minutes, when he tried without success to contact de Blasio. He returned to the meeting and said he'd reached a decision but didn't want to announce it until he had a chance to tell de Blasio, saying "it is the honorable thing to do." 
"I am breaking an agreement between adults to honor an agreement and a pact I have with the children of Miami," Carvalho said to cheers. "The chancellor's position in New York City is the most coveted job in education."
De Blasio had touted the Carvalho appointment after conducting a national search to replace Chancellor Carmen Farina, who's held the position for four years. The mayor described Carvalho as "a world-class educator with an unmatched record of success."
After speaking with the mayor, Carvalho told reporters de Blasio expressed "sadness and disappointment," but not anger. 
De Blasio described himself as "very surprised" and "disappointed" by Carvalho's change of heart, telling reporters Thursday afternoon that Carvalho had accepted the job more than a week ago and had several conversations with city officials, including a telephone call at 5 p.m. Wednesday in which the mayor and Carvalho agreed to make the announcement of his appointment through an article in the news Website, Politico.
"It's really unusual," de Blasio said. "He was offered the job. He accepted it. He was going to take it, and then he changed his mind."
Before it's here, it's on the Bloomberg Terminal.
LEARN MORE