markets
$1 Trillion Fund Committed to U.K. No Matter What Brexit Outcome
By and
Norway wealth fund delivered its best return on record in 2017

The fund's exposure to stocks buoyed its performance last year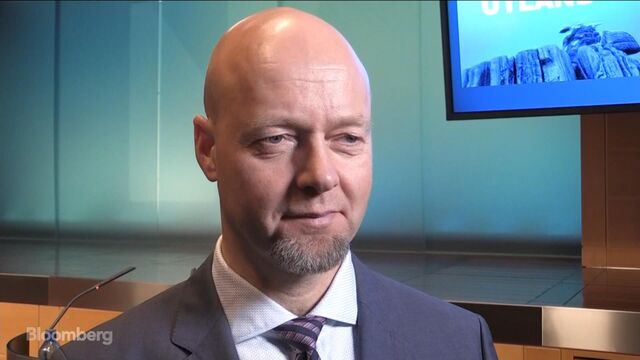 The world's biggest sovereign wealth fund will continue to invest in the U.K. no matter what the outcome of Brexit talks.
"We remain a long-term and committed investor in the U.K. in all asset classes," Norges Bank Investment Management's Chief Executive Officer Yngve Slyngstad said at a press conference in Oslo, where the fund is based.

Macron Sort of Likes the Sound of Corbyn's Plan: Brexit Update
The U.K. is the Norwegian sovereign wealth fund's largest investment market after the U.S., with $67 billion in stocks and $18.5 billion in bonds, in addition to a $6.3 billion property portfolio.
"We have a substantial real estate portfolio in London and we have a substantial investment in the equity markets and the fixed income markets," Slyngstad said. "And these will remain at about the same level no matter what the event with regards to these political discussions will be."
Bank of America Signs Up for Another 10 Years at London HQ
Slyngstad made the comments in connection with the fund's annual results on Tuesday, which revealed it delivered its biggest return on record in 2017, capping a year in which it passed the $1 trillion mark and shocked markets by proposing to drop oil and gas stocks.
Not since the fund was created at the end of the last century has it made more money in a single year, measured in kroner, the Oslo-based investor said on Tuesday. The 2017 return was equivalent to $131 billion, or 13.7 percent.
The fund's growing exposure to the stock market means that returns may be more volatile in the future, Slyngstad said.
Owning on average 1.4 percent of the world's listed stocks, the fund largely follows indexes but has leeway for some active management. It's in the process of raising the share of stocks in its portfolio to 70 percent to improve returns. It's also increasing its influence in areas such as executive pay, corporate corruption and sustainable investing.
"The fund's cumulative return since inception has passed 4,000 billion kroner. One out of four kroner of return was generated in 2017, after a very strong year for the fund," Slyngstad said in the statement.
Norway's $1 Trillion Fund Wants Out of Oil and Gas Stocks
The 13.7 percent return was generated in a year characterized by the biggest stock-market boom in eight years. The development pushed stocks closer to a 70 percent target.
The fund's stock portfolio rose 19.4 percent in the year, while fixed income investments gained 3.3 percent and real estate grew 7.5 percent. It held 66.6 percent in stocks at the end of 2017, 30.8 percent in bonds and 2.6 percent in real estate.
Its biggest equity investments in 2017 were Apple Inc., Nestle SA and Royal Dutch Shell Plc, while its largest fixed income holdings were U.S., Japanese and German government bonds.
The fund has also moved more into emerging markets over the past years to raise returns and Norway is currently looking into whether it should buy private equity and infrastructure.
The government withdrew 61 billion kroner from the fund last year, after tumbling oil prices forced its first-ever withdrawals in 2016.
— With assistance by Jonas Cho Walsgard
(
Updates with details of U.K. holdings in third paragraph.
)
Before it's here, it's on the Bloomberg Terminal.
LEARN MORE