What Happens Next in Comcast's Battle With Disney for U.K.'s Sky
By
Comcast's bid could rid U.K. authorities of Murdoch issue

Sky shareholders see bidding war after cable company offer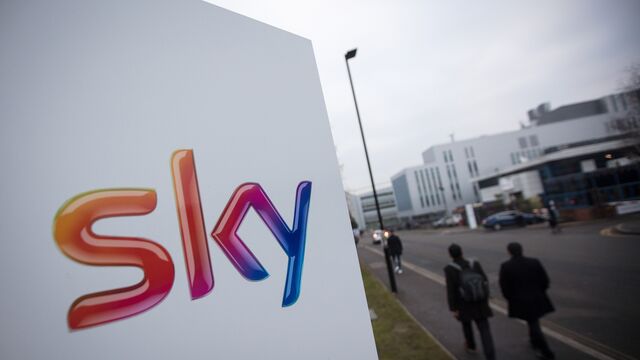 Comcast Corp.'s $31 billion proposal to buy Sky Plc adds to the list of U.S. media giants vying for the European broadcaster.
The cable company's tentative offer set off expectations for a bidding war with Walt Disney Co. and 21st Century Fox Inc., by upending Rupert Murdoch's plan to have Fox to buy the 61 percent of Sky it doesn't already own and sell it along with the bulk of Fox's film and TV assets to Disney.
The U.S. suitors are all after the same thing: bigger global reach, Sky's 23 million subscribers, top-flight sports and entertainment content and advanced technology. Here's how the pay-TV company complements each and what Comcast's entry means for U.K. authorities and Sky shareholders that would need to approve any deal.
Why does Comcast Want Sky?

Comcast sees Sky's technology as more advanced than peers, much as the U.S. cable giant's X1 platform outshines its competitors' set-top boxes. Comcast, whose assets include NBCUniversal and Universal Pictures, is also looking to expand its international revenue as cord-cutting increases in the U.S. Owning Sky would allow it to distribute content across some of Europe's biggest markets, taking Comcast's customer relationships to 52 million.
Research-and-development costs could be spread and the strengths of both companies' technologies combined, such as Sky's Now TV and Comcast's Xfinity streaming platforms. Cross-sharing of entertainment and sports assets, such as Sky's Premier League and Bundesliga soccer rights and Comcast's Super Bowl and Olympics rights, is another option.
What's Fox and Disney's Interest in Sky?

Similar to Comcast, Fox and Disney have been hit by the rise of new media players such as Netflix Inc. and Amazon.com Inc. Buying Sky would help them scale up and better compete. Given regulatory uncertainty over whether the Fox-Disney deal will go through, Fox's purchase of Sky offers a fall-back plan.
For Disney, Chief Executive Officer Bob Iger has called Sky the "crown in the jewels" of Fox's assets, and Sky's streaming service Now TV would help Disney in its push to offer more content directly to consumers. Disney could now come in with its own direct offer for Sky to avoid it falling into Comcast's hands, or renegotiate its deal with Fox to allow for a higher Fox bid for Sky.
Does Comcast Have a Better Shot at Approval?

From a U.K. political and regulatory standpoint, yes. Comcast's proposed offer contains commitments to use Sky as a platform for growth in Europe. And a takeover of Sky by Comcast would remove Murdoch from the equation for U.K. authorities.
Fox's Sky bid has faced extensive probes over concerns that owning Sky News would put too much of Britain's media into the hands of the billionaire media baron. A phone hacking scandal at Murdoch's newspapers, which derailed his 2011 attempt at Sky, still weighs large politically. Fox has also faced a backlash over harassment allegations at Fox News in the U.S., though U.K. regulators have said those claims shouldn't stop the Sky deal going ahead.
Comcast doesn't have the political baggage in Britain, and its much smaller presence in Europe shouldn't raise competition concerns.
U.K. competition authorities are due to deliver their recommendation on Fox's bid for Sky in May, leaving the ultimate decision to Culture Secretary Matt Hancock, likely in June. A direct bid for Sky by Disney would have a better chance at winning U.K. approval than Fox's offer, which could help determine which company potentially tries to outdo Comcast.
What About Sky Shareholders?
Disney and Fox will need to decide whether either will make a counteroffer to Comcast's proposed 12.50 pounds ($17.42) per share bid -- Fox has so far stuck to its offer. Sky's independent directors, led by Deputy Chairman Martin Gilbert, will then have to take a view on whether to recommend Comcast's approach or to go with Fox/Disney.
Sky shareholders are set to vote on the Fox-Sky deal around July, provided that bid wins U.K. regulatory approval. If Comcast formalizes its bid soon, it could expect decisions from regulators about its own offer around that time or even earlier, setting the stage for a straight choice between the proposals.
Quotes from this Article
Before it's here, it's on the Bloomberg Terminal.
LEARN MORE