politics
Trudeau Delays Infrastructure Money in Holding Deficits Steady
By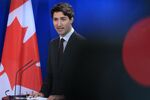 Justin Trudeau's government is punting some infrastructure spending in the short term, replacing it with new money for veterans, indigenous Canadians, women and research in a budget that holds deficit projections steady.
The fiscal plan, unveiled in Ottawa by Finance Minister Bill Morneau, heavily emphasized gender equality while pushing back, but not cutting, C$7.2 billion ($5.7 billion) of the government's hallmark infrastructure program, according to Bloomberg calculations. Officials argue the delay is an accounting quirk and that projects are being built already by cities and provinces, with the federal money sure to eventually flow.
Tuesday's budget nonetheless amounts to a swap -- dollars for roads and transit delayed in favor of new departmental spending -- that keeps the government's projected deficits largely unchanged. Morneau projected a shortfall of C$19.4 billion in 2017-18, C$18.1 billion in 2018-19 and a cumulative C$98 billion over six years with no return to balance -- all largely in line with what was projected in a fall fiscal update. The budget however is silent on warnings that Donald Trump will undercut Canadian competitiveness.
"We're taking a fiscally responsible approach that allows us to deal with the challenges we might face,'' Morneau told reporters before his speech, adding Canada will study the impact of U.S. measures before reacting to them. "We're going to do our homework.'' 
Ahead of the budget, business groups urged Morneau to follow Trump's tax cuts or take other steps to make Canada a more attractive place to invest. The uncertain fate of the North American Free Trade Agreement is another challenge for Canadian firms.
Infrastructure
Infrastructure spending has been hailed as key to boosting Canada's growth rate. But C$7.2 billion was moved out of previous years, the current year and the fiscal year that begins April 1. The money begins to pop up again in the 2019-20 year, when the government projects a net C$1.4 billion in additional infrastructure spending across three different programs that the budget splits apart. 
For one of those three programs -- C$81 billion over 11 years -- more than $3 billion is being pushed back to at least 2025-26, although none of the infrastructure cash is cancelled.
"This isn't a budget that's about growth, as much as it's about equality and breaking down barriers to opportunity,'' Craig Alexander, chief economist at the Conference Board of Canada, said in an interview. Measures to boost women's workforce participation, for instance, are worthwhile, he said, "but it's going to be incremental and the impact is going to be felt over a long period of time'' while infrastructure spending is delayed.
Gender
Gender is a dominant theme in the budget, with Morneau's speech highlighting the global Me Too movement. It includes expanded parental leave designed to be used by both parents, instead of an existing system that often sees just one parent stay home. The new benefit will cost roughly C$300 million per year and be funded entirely by employment insurance premiums, which may rise in coming years as a result. Other measures include pay equity legislation for federally regulated sectors and C$2 billion over five years for a feminist international assistance policy.
The budget maintains a C$3 billion annual risk cushion. Without new spending measures, the current year's deficit would have come in at C$15.4 billion, but instead is projected at C$19.4 billion, down slightly from the C$19.9 forecast in October. The ratio of debt to the economy is scheduled to fall from 30.4 percent in 2017-18 to 28.4 percent in 2022-23.
Election
Canada's next election isn't until 2019, but this budget has plenty of political overtones. Many measures are aimed at city- dwelling, center-left voters that typically switch between Trudeau's Liberals and the third-place New Democratic Party. One such measure raises the prospect of major new spending: the budget creates a commission to study the possible creation of a national plan to cover the cost of pharmaceutical drugs. Canada's parliamentary budget officer, an independent watchdog, has forecast that a full pharmacare program would cost C$20.4 billion annually -- a sizable addition to a budget that, for the 2017-18 year, includes C$304.6 billion in total program spending. Former Ontario Health Minister Eric Hoskins will lead the effort.
Morneau said it's not acceptable that some Canadians have no drug coverage. "Our goal is to do this in a way that actually deals with that gap.''
Passive Investments
The government watered down proposed changes to taxing income from so-called "passive investments" held in private corporations. The new measures, along with others announced by Morneau last year, will raise C$3.4 billion in revenue over six years, and C$925 million annually by 2022-23. Marijuana revenue -- from taxes on a legalized recreational market set to open later this year -- is projected to total C$690 million over five years, and C$220 million annually by 2022-23. Tobacco taxes are also rising, projected to raise C$1.5 billion over six years.
Albert Baker, a partner and global tax policy leader with Deloitte, said the new passive income measures are smaller in scope than the initial proposal. "I think business will react very positively to this development,'' he said in an interview. He added Canada will need to do a "serious assessment on the impact U.S. tax reform will have,'' but didn't begin to tackle that with this budget. "This is a stay-the-course budget,'' Baker said.
On trade, the government projects C$2.1 billion in lost tariff revenue over four years, beginning in 2019-2020, due to the Comprehensive and Progressive Agreement for Trans Pacific Partnership, an 11-nation trade deal with Japan and other Pacific Rim nations. Tuesday's budget also allocates C$75 million over five years to boost trade efforts in China and elsewhere in Asia, a potential precursor to formal free-trade talks with the world's second-largest economy.
The biggest new spending includes a one-time, C$4.2 billion charge for a new pension plan for veterans; C$4.8 billion over six years for indigenous Canadians; C$1 billion over five years for new environment and energy assessment rules; C$572 million to "harness big data"; C$763 million for researchers; and C$700 million for an industrial research assistance program. The program also creates a Canada Worker Benefit, upgrading an existing program for low-income workers by increasing maximum payments and having it kick in automatically. That will cost roughly C$500 million per year, beginning in 2019-20, though funding for it was previously announced.
Before it's here, it's on the Bloomberg Terminal.
LEARN MORE