markets
State Street Plans to Engage With Gunmakers After Shootings
By
Joins BlackRock, which also plans to take up the issue

Passive investing funds own about 25% of U.S. gunmaker shares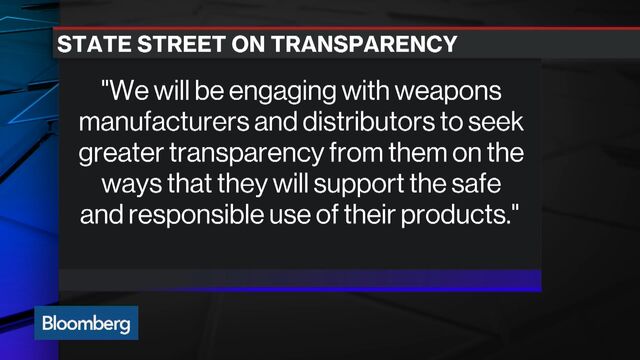 State Street Corp. plans to engage with weapons manufacturers following the school shooting in Florida, the latest big investment firm to stake out that position.
"We will be engaging with weapons manufacturers and distributors to seek greater transparency from them on the ways that they will support the safe and responsible use of their products," the Boston-based company said in a statement. "And we will also seek to ensure that any shareholder resources used to influence legislation and regulations, or fund other advocacy efforts is consistent with the company's public views."
Last week BlackRock Inc., the world's largest asset manager, said it would engage with weapons makers and distributors. The company has investments in gun makers as one of the largest providers of index funds.
"As a fiduciary we have a responsibility to replicate the indices our clients choose to invest in," BlackRock said in a statement on Feb. 22. "We are working with clients who want to exclude from their portfolios weapons manufacturers or other companies that don't align with their values."
Vanguard Group, the world's second-largest money manager, said Tuesday that 95 percent of the 388 funds it offers do not own shares of companies involved in gun manufacturing, according to spokeswoman Carolyn Wegemann. Most of the Vanguard funds that own gun shares are index funds, she said.
Passive funds, or those that track indices, own about 25 percent of U.S. gunmakers' shares, according to data compiled by Bloomberg. BlackRock, State Street and Vanguard all have large passive businesses. In total, BlackRock managed $6.3 trillion, Vanguard $4.9 trillion and State Street $2.8 trillion as of Dec. 31.
Read more on passive funds' gun ownership here
Florida teachers last week demanded that the state agency that manages their pension plan divest its gun stocks. The plan held 41,129 shares in American Outdoor Brands Corp., formerly known as Smith & Wesson, as of Dec. 31, according to data compiled by Bloomberg. The company manufactured the AR-15 used in the Marjory Stoneman Douglas High School shooting, according to local law enforcement..
— With assistance by Laura Colby
(
Adds BlackRock action, Vanguard response starting in third paragraph.
)
Before it's here, it's on the Bloomberg Terminal.
LEARN MORE