Mueller Risk Index Warns of Market Declines as Probe Continues
By
Developments seen as hurting stocks but helping the dollar

New index offered by a firm that analyzes political risk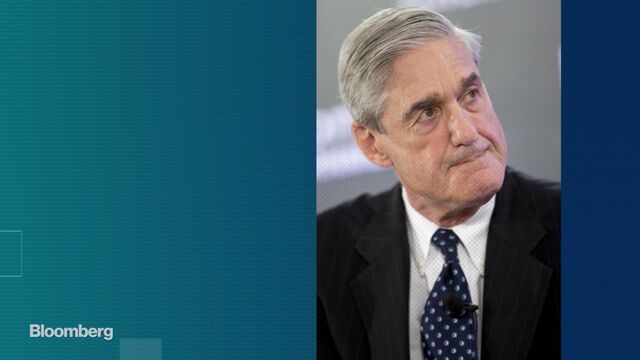 As Special Counsel Robert Mueller's investigation into Russian election meddling unfolds, investors should expect stocks to fall on major developments, according to a new index aimed at tracking political risks from the probe.
The Mueller Risk Index "suggests that increased risk associated with the Mueller investigation (and by extension, the increased risk of impeachment) may hurt stocks but help the dollar," according to GeoQuant, the New York-based analytics firm behind the index, which it released Monday.
Read More: Follow the Trump Administration's Every Move
The index has been steadily increasing in recent months amid indictments of Donald Trump's campaign associates and Russians accused of trying to sway the 2016 election outcome. It's expected to continue to rise in March before stabilizing some in April, said Mark Rosenberg, GeoQuant's chief executive officer.
With each major event so far in the investigation, there's been a slight decline in the S&P 500 Index while the dollar has gained, and that trend is expected to continue, Rosenberg said. Mueller's investigation into whether Trump or any of his associates helped Russians interfere in the presidential campaign is expected to continue for months, with a possible interview with Trump on the horizon.
A QuickTake Q&A: Your Guide to Understanding the Trump-Russia Saga
"To the extent politics and the Mueller investigation impact the market, we should expect an expanding scope or more big-bang developments in the investigation would not be received well by the market," Rosenberg said in an interview.
The biggest influence on the measurement is the possibility of Republicans losing control of Congress. Currently, GeoQuant predicts a split Congress following this year's midterm elections.
Rosenberg says his company has a 78 percent success rate in predicting political events over the past year in the 30 countries it tracks, including the failure of Obamacare repeal legislation to pass last year in Washington and the outcome of the state elections in Mexico.
Before it's here, it's on the Bloomberg Terminal.
LEARN MORE