markets
Five Things You Need to Know to Start Your Day
Get caught up.
By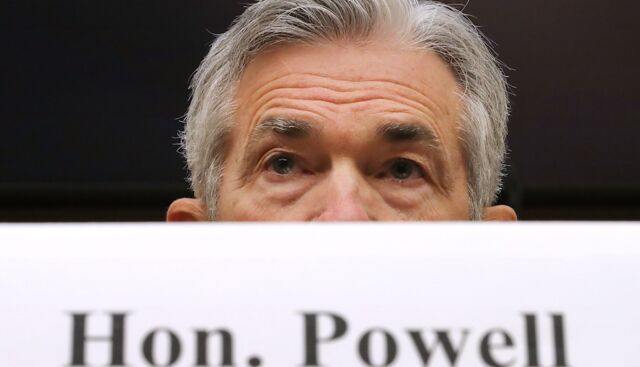 Want to receive this post in your inbox every morning? Sign up here
New Federal Reserve Chairman Jerome Powell sent markets moving with his upbeat economic assessment for the U.S. and the world, while China plans to cut its budget-deficit target for the first time since 2012. Here are some of the things people in markets are talking about.
Powell's Upbeat Message
Federal Reserve Chairman Jerome Powell's optimistic economic remarks sent the U.S. dollar and bond yields higher, while stocks extended losses, as he appeared on Tuesday before the House Financial Services Committee in his first testimony since taking on the top role earlier this month. Bond traders are now pondering the potential of four rate hikes this year after he said that strengthening growth and inflation may spur policy makers to reconsider their projection of three increases this year. Powell said his personal economic outlook has strengthened since December,  that the strength is global and that he has some confidence inflation is moving up to target. He also said he didn't think exchange-traded funds were to blame for the market correction earlier this month. Here are a few other things we learned.
A Cut for China
China plans to reduce its annual budget-deficit target to just under 3 percent of total economic output, people familiar with the matter said. The target will be set at 2.9 percent, said one of the people, who asked not to be identified as the information isn't public. The target, which was set at 3 percent the past two years and hasn't been cut since 2012, is subject to approval at the annual National People's Congress opening on March 5.
India Bank Fraud Fallout
The fallout from India's biggest banking fraud is spreading to the market for trade financing, as foreign lenders become more reluctant to accept the guarantees from their local counterparts that underpin the loans. Citigroup Inc., Deutsche Bank AG, Standard Chartered Plc and HSBC Holdings Plc are among banks reducing exposure to these transactions, used by smaller companies to access short-term dollar funding, said people with knowledge of the matter. As questions are raised about the creditworthiness of guarantees from Indian state-run banks, rates have risen by as much as 0.5 percentage point for some types of financing, the people said, asking not to be identified as the details are private.
Taiwan's Toilet Paper Troubles
Taiwan's premier is urging the public to avoid hoarding toilet paper after a reported spike in prices by manufacturers spurred a run on supermarket supplies. The island's government is monitoring distributors and retailers for signs of price manipulation after local media said major toilet-paper brands would boost prices by as as much as 30 percent from next month, spurring anxious shoppers to stock up on the product and strip store shelves over the weekend.
Coming Up…
February has been an unusually cruel month — stocks and bonds are both down and global volatility is poised for its first back-to-back increases since the start of 2016. So, investors can be forgiven for their trepidation as they await China PMI readings on Wednesday that are forecast to decline; The economic calendar isn't any rosier in Japan, which is expected to report the steepest month-on-month drop in industrial output since the 2011 earthquake, tsunami and nuclear incident. At least India is expected to report that GDP growth accelerated in the fourth quarter. The European day brings French, Finnish, Swedish, Danish and Polish GDP, along with French, Italian and euro-zone CPI. The American session features the second reading on U.S. fourth quarter GDP, as well as pending home sales figures.
What we've been reading
This is what caught our eye over the last 24 hours.
— With assistance by Garfield Clinton Reynolds, and Yu-Huay Sun
Before it's here, it's on the Bloomberg Terminal.
LEARN MORE