markets
Fidelity Billionaire Owners' Fortunes Boosted by Soaring Stocks
By and
CEO Abigail Johnson's net worth climbs to $11.2 billion

Collectively, the family owns 49% of the Boston fund giant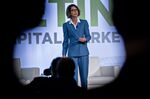 The rising stock market has lifted the fortunes of Fidelity Investments and the billionaire Johnson family that controls it.
Closely held Fidelity on Tuesday reported that its operating income jumped 54 percent to $5.3 billion in 2017, while its assets under management rose 15 percent to $2.45 trillion.
For Chief Executive Officer Abigail Johnson, who owns almost one-quarter of the business, the performance boosted her estimated net worth to $11.2 billion from $8.6 billion, according to the Bloomberg Billionaires Index. The fortune of her father, former CEO Edward C. Johnson III, climbed to $7 billion from $5.4 billion. Two of Abigail's siblings, Edward Johnson IV and Elizabeth Johnson, are now worth $3.4 billion each.
Collectively, the Johnsons own 49 percent of the Boston-based company, which was founded in 1946 by Abigail's grandfather, Edward C. Johnson II.
Abigail Johnson, 56, succeeded her father as chairman in 2016 after becoming CEO in 2014. Fidelity, through a spokesman, declined to comment.
Read more: Fidelity's income rises 54% even as active outflows persist
Before it's here, it's on the Bloomberg Terminal.
LEARN MORE