business
Emirates Global Alumunium Profit Climbs Before Possible IPO
By
EGA's 2017 output climbed to a record as revenue rose 20%

Producer's possible IPO is 'subject to market conditions': CEO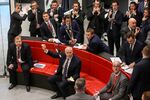 Emirates Global Aluminium, which may sell shares to the public for the first time this year, said 2017 profit surged as it took advantage of higher prices and boosted output to a record.
Net income rose to 3.3 billion dirhams ($900 million) from 2.1 billion dirhams in 2016, United Arab Emirates-based EGA said Tuesday in an emailed statement. Revenue climbed 20 percent to 20.5 billion dirhams amid "favorable conditions" in the global aluminum market, it said. Aluminum gained 34 percent in 2017 on the London Metal Exchange, the biggest increase since 2009.

EGA's possible share sale is "subject to market conditions," Chief Executive Officer Abdulla Kalban said in a phone interview. "The way we see the market today is quite positive," and the company is "still in the early stage until we announce the IPO," Chief Financial Officer Danny Dweik said in the same interview. Kalban and Dweik declined to comment on possible listing locations.
EGA, owned equally by Abu Dhabi's sovereign fund Mubadala Investment Co. and the Dubai government's Investment Corp. of Dubai, should hold an initial public offering this year, Mubadala CEO Khaldoon Khalifa Al Mubarak said Tuesday at a conference in Abu Dhabi. The sale could raise as much as $3 billion, people familiar said in March. Oil-rich Persian Gulf nations such as the U.A.E. are selling assets and investing outside energy to diversify their economies.
Price Outlook
EGA will take a decision on the size of the possible share sale in a couple of weeks and hasn't yet chosen an exchange for the listing, Mubadala's Al Mubarak told Bloomberg TV in an interview in Abu Dhabi. Dubai and Abu Dhabi stock exchanges are both bidding to list the shares, he said.
The company said it produced a record 2.6 million tons of cast metal, exceeding 2016 output of 2.5 million tons and making EGA the third-largest producer of primary aluminum outside China.
"We see very strong support levels at slightly less than $2,200 a ton" for aluminum prices this year, Dweik, the CFO, said. Aluminum on the LME was at $2,150.50 per ton at 2:14 p.m. in Dubai.
To secure raw materials, EGA is developing a $1.4 billion bauxite mine and a port in Guinea and is building a facility in Abu Dhabi to refine bauxite ore into alumina, the raw material for aluminum smelters. The West African mine is 37 percent complete and is expected to ship its first bauxite in the second half of next year, according to EGA's statement.
Tariff Risk
The Al Taweelah alumina refinery, which is 76 percent built, will meet 40 percent of EGA's alumina needs after production begins in the first half of 2019, the company said. More than 10,000 people are working on the project, with a budget of about $3.3 billion, it said.
China, which produces about half the world's aluminum, is reducing output as the government cracks down on illegal capacity and enforces curbs on operations to cut pollution. Aluminum demand will benefit from growth in the electric vehicle market as the metal is used in battery components and casings as well as vehicle bodies, industry consultant CRU Group said in a Feb. 15 note.
EGA exports about 90 percent of its output and considers the U.S. a "key market," Dweik said. President Donald Trump has proposed imposing tariffs on imported aluminum to protect U.S. producers.
"We don't want to speculate" about possible tariffs on EGA's exports to the U.S., Kalban, the CEO, said. "We just have to wait and see."'
EGA produces about 4 percent of the world's aluminum and sells to customers in more than 60 countries, according to its website. Its smelter in Abu Dhabi includes the world's longest production line, or pot line, spanning 1.7 kilometers (1.1 miles), the company said.
— With assistance by Mahmoud Habboush, Erik Schatzker, and Dana Khraiche
(
Updates with Mubadala CEO comments in fifth paragraph.
)
Before it's here, it's on the Bloomberg Terminal.
LEARN MORE