technology
Airbus Faces Revolt From Second Enginemaker on A320 Output Hike
By and
GE ally Safran says can't consider 70-a-month rate right now

Pratt & Whitney has also warned further jump would be tough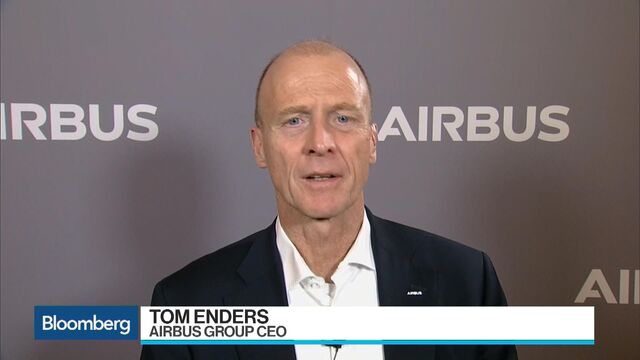 Airbus SE's plan to further lift production of its A320neo jet faces resistance from both engine suppliers after Safran SA joined Pratt & Whitney in suggesting the move would strain resources to the limit.
Speaking in Paris on Tuesday, Safran Chief Executive Officer Philippe Petitcolin was cautious about the feasibility of taking A320 output to the 70-a-month that Airbus has mooted. A decision couldn't be reached until next year at the earliest, and a higher rate wouldn't be possible until after 2021, he added.
"It would be foolish to do that today because we are still in the ramp up and we are not 100 percent sure that our supply chain will be able to sustain such a rate," Petitcolin said. Safran builds the Leap engine for Airbus and Boeing Co. narrow-body planes in the CFM International venture with General Electric Co.
Petitcolin pushed back against a hike from the planned monthly build rate of 60 planes after Pratt's owner United Technologies Corp. last week described as "really difficult" any major jump in production of its geared turbofan engine.
Both manufacturers are already wilting under the pressure of record narrow-body orders, with Leap deliveries four to five weeks behind schedule, and Pratt suffering glitches with the GTF that have disrupted A320neo handovers since the start of the program. While Boeing has also mentioned a 70-jet monthly rate for its 737, Petitcolin said Airbus's plans are more advanced.
Petitcolin said at a press conference that CFM still aims to deliver the targeted 1,100 Leap engines this year, followed by 1,800 in 2019, but is struggling to make up lost ground.
Airbus CEO Tom Enders issued a statement chiding Safran after the French company posted higher earnings and issued a positive outlook for margins on the Leap. "It's nice to read that they have a strong action plan to cut costs," he said. "However, it is much more important and urgent right now that Safran and GE recover the program and deliver on time and on quality."
Before it's here, it's on the Bloomberg Terminal.
LEARN MORE