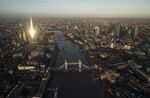 Norway's sovereign wealth fund, the world's biggest, is backing London's real-estate market to survive the so-called Brexodus of bankers that the U.K.'s exit from the European Union seem set to trigger. It's a brave bet, to say the least.
The fund posted a return of 13.7 percent in 2017, as surging global equity markets helped the owner of an average of 1.4 percent of the world's listed stocks to a record year.
Investments in unlisted real estate comprised 2.6 percent of the fund's total investments at the end of 2017. And of the portion of that cash allocated to office and retail space, London dominates the portfolio.
"We remain a long term and committed investor in the U.K.," the fund's Chief Executive Officer, Yngve Slyngstad said at a press conference in Oslo. That commitment remains "regardless of what the outcome of the political discussion will be" over Brexit, he said in response to a question about the negotiations.
As the wrangling over the divorce gets knottier, though, parts of the finance industry are starting to vote with their feet.
Earlier this month, Deutsche Bank AG said it will start to relocate its global booking hub for customer business to Frankfurt, which could see as many as 20,000 client accounts and several hundred bankers exiting the U.K. capital. "We shouldn't be under any illusion that London will have to remain a major financial hub, will have to remain the capital market center for Europe for some time to come," the bank's Chief Executive Officer, John Cryan, said.
And Credit Suisse is moving about 250 investment banker positions out of London to either Frankfurt or Madrid, my Bloomberg News colleague Jan-Henrik Förster reported on Monday. That's after the bank's Chairman, Urs Rohner, said earlier this month that financial firms have just two or three months to act on their Brexit contingency plans, given the uncertainty of the outcome.
It's not all gloom and doom. Bank of America Corp. last week extended the lease on its London headquarters by 10 years -- in an office space in the center of the City that's owned by the Norwegian wealth fund. Let's hope Norway's faith in London doesn't turn into a case of buyer's remorse.
Before it's here, it's on the Bloomberg Terminal.
LEARN MORE