politics
Corbyn Sets Up Showdown With May on Customs Union: Brexit Update
By , , and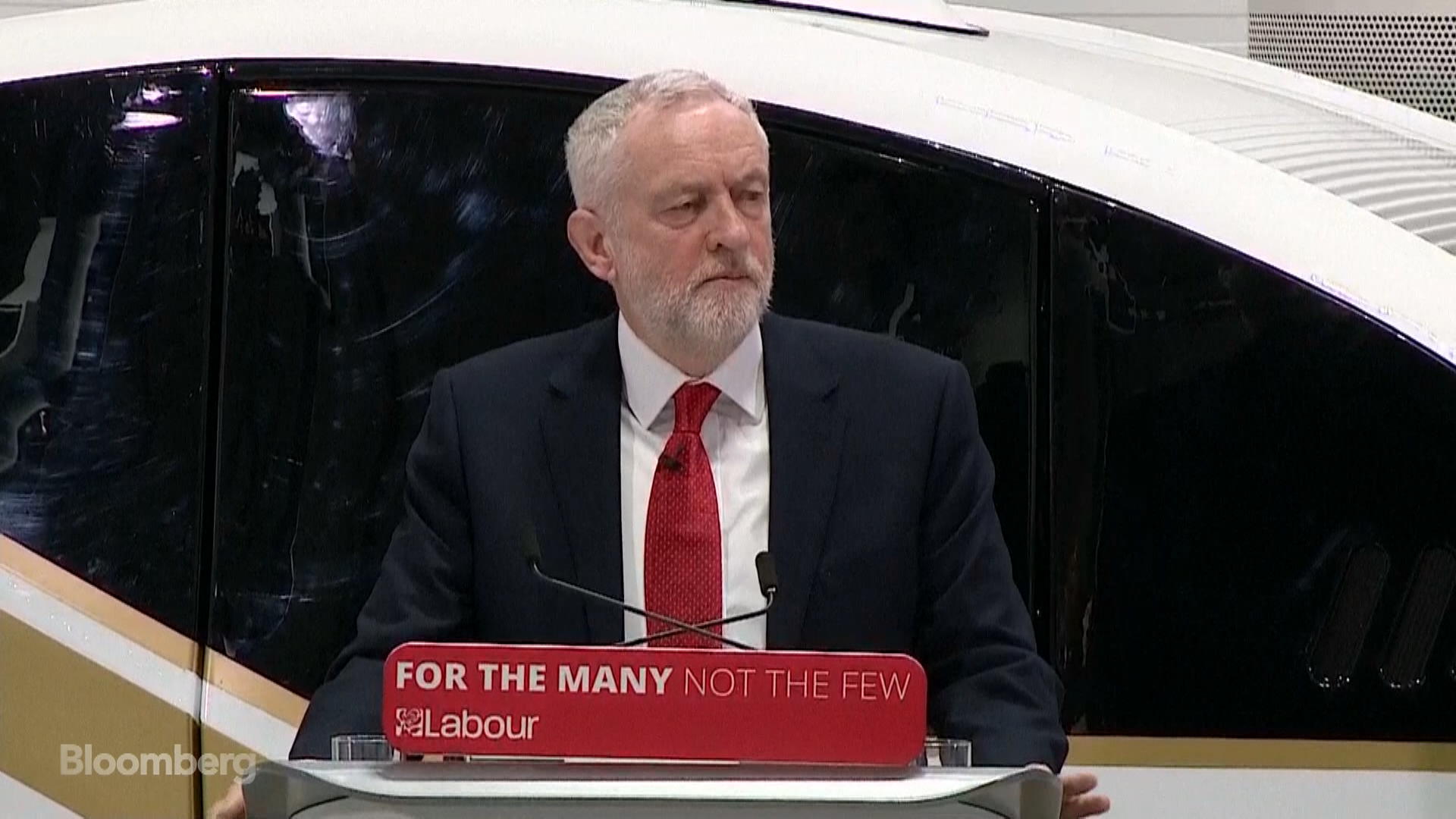 Follow @Brexit on Twitter, join our Facebook group and sign up to our Brexit Bulletin.
Labour leader Jeremy Corbyn's long-awaited Brexit speech on Monday spelled trouble for Theresa May, and could lead to a rewrite of the U.K's Brexit policy.
Corbyn said Labour supports a customs union with the European Union after the U.K. leaves the bloc, setting the stage for a showdown with May as it's a policy pro-European rebels in her Conservative Party are willing to back. Corbyn left little doubt he sees it as an issue on which he can defeat the government, calling on lawmakers from all parties to break ranks to support Labour.
Labour and Conservative opponents of Brexit have already tabled amendments to the government's Brexit legislation that would force the U.K. to stay in a customs union -- if passed, it could precipitate a row between the Tory factions that could prove unfixable.
We tracked the speech and reaction in real time. Time stamps are London time.
Former Tory Chancellor Welcomes Corbyn View (12:15 p.m.)
George Osborne has been using his role as editor of the Evening Standard to provoke May's government, and today is no different. A pro-European, May will be hoping more Tories don't take the same view.
"The Labour leader has, with the smallest of nudges, maneuvered himself into a more pro-business, pro-free trade European policy than the Tory Government."
And Here's the Tory Response (11:50 a.m.)
Liam Fox, secretary of state for international trade: "This is a cynical attempt by Labour to try and frustrate the Brexit process and play politics with our country's future – all the while, betraying millions of Labour voters."
"This is another broken promise by Labour. Only the Conservatives are getting on with delivering what British people voted for, taking back control of our laws, borders and money."
Corbyn Rejects Second Referendum on Brexit (11:45 a.m.)

"We are not proposing a second referendum," Corbyn says. But he does want a meaningful vote in Parliament at the end of the negotiations with the EU.
Corbyn's Likely Red Lines Come to the Fore (11:38 a.m.)
What Corbyn wants from the EU is a guarantee that his government would be able to intervene to help industries where needed; he's also long been against privatization and wants to reverse it in some areas, including railways, postal services and utilities. So, any agreement with the EU would need to take account of that.
"We all have one mailbox," he says, so it's more efficient to have a single delivery person than three. Likewise, competition for water supply "is a little odd."
Corbyn Closes on Some Favorite Themes (11:30 a.m.)
The Labour leader wraps up his 4,736-word speech by criticizing what he says is free-market failings in banking, utilities, outsourcing and railways. Corbyn has been far more interested in austerity than in Brexit. Even in this speech -- ostensibly about his policy on leaving the EU -- he found place to talk about his major gripe against the government.
Here are the two instances: "This is an economy that has already been damaged by eight years of Conservative austerity, where wages are still lower today than they were a decade ago, where productivity lags dangerously behind the other major economies, where the government has failed to invest and modernize, where more people are living in poverty. And where closing the deficit, that was due to be eradicated by 2015, then 2016, then 2017, then 2020 has now had to be put back to 2025."
'In or out of the European Union, we have to deal with that reality, the reality of market failure and austerity."
Corbyn Says He's Skeptical, Not Anti-European (11:26 a.m.)
It's long been said that Corbyn is unenthusiastic about Europe. He addresses the issue, says skepticism is healthy and that Euroskepticism has unfortunately come to mean being anti-EU.
"I have long opposed the embedding of free market orthodoxy and the democratic deficit in the European Union, and that is why I campaigned to 'remain and reform' in the referendum campaign. Skepticism is healthy especially when dealing with politicians or the received wisdom of the political and media establishment, but often the term "Euroskeptic" in reality became synonymous with "anti-European."
"And I am not anti-European at all, I want to see close and progressive cooperation with the whole of Europe after Brexit."
Freedom of Movement Will End (There's a But) 11:17 a.m.
Here is the statement of fact: "Our immigration system will change and freedom of movement will as a statement of fact end when we leave the European Union."
And here is the but: "But we have also said that in trade negotiations our priorities are growth, jobs and people's living standards. We make no apologies for putting those aims before bogus immigration targets. Labour would design our immigration policy around the needs of the economy based on fair rules and the reasonable management of migration."
Calls for Cross-Party Support for Customs Union (11:10 a.m.)
"I appeal to MPs of all parties, prepared to put the people's interests before ideological fantasies, to join us in supporting the option of a new U.K. customs union with the EU, that would give us a say in future trade deals."
Finally, Corbyn Gets to the Customs Union (11:09 a.m.)
"We have long argued that a customs union is a viable option for the final deal. So Labour would seek to negotiate a new comprehensive U.K.-EU customs union to ensure that there are no tariffs with Europe and to help avoid any need for a hard border in Northern Ireland."
He adds: "But we are also clear that the option of a new U.K. customs union with the EU would need to ensure the U.K. has a say in future trade deals. 
But here is the key bit: "A new customs arrangement would depend on Britain being able to negotiate agreement of new trade deals in our national interest. Labour would not countenance a deal that left Britain as a passive recipient of rules decided elsewhere by others. That would mean ending up as mere rule takers."
Corbyn Says Brexit Must Respect Ireland Peace Deal (10:55 a.m.)
"No one should be willing to sacrifice the Good Friday Agreement, the basis for 20 years of relative peace, development and respect for diversity in Northern Ireland," Corbyn says.
Corbyn Says Labour Wants Pro-Economy Brexit (10:52 a.m.)
Corbyn says country "still in the dark" about what the government wants from Brexit. Workers, businesses, voters want to know what Brexit is likely to mean for their future, he says. "We respect the result of the referendum. Our priority is to get the best deal for jobs, living standards and the economy."
Earlier:
* Corbyn's Shifting Customs Union Stance Spells Danger for May
* Theresa May Is Said to Propose Blurring Key Brexit Red Line
* May Knows Danger of Cabinet Split on Brexit Still Lies Ahead
* How a 'Customs Union' Helps Businesses With Brexit: QuickTake
Coming Up:
* May gives her landmark Brexit speech on Friday
Before it's here, it's on the Bloomberg Terminal.
LEARN MORE