Buffett-Dimon Health Venture to Go Beyond Just Squeezing the Middlemen
By and
Goal of business is better care, lower costs, Buffett says

Buffett cautions JV with JPMorgan, Amazon will take time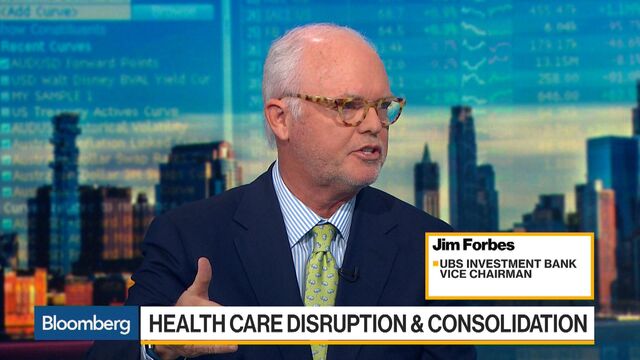 Warren Buffett's health-care venture has far more ambitious plans than simply squeezing middlemen for better prices, the billionaire said.
"It would be very easy I think to go in and shave off 3 or 4 percent just by negotiating power," Buffett said Monday in an interview on CNBC. "We're looking for something much bigger than that."
Buffett's Berkshire Hathaway Inc., along with Amazon.com Inc. and JPMorgan Chase & Co., said in late January that they planned to start a joint venture to improve health care for their workers. While the companies didn't give much detail at the time, the announcement prompted broad speculation and unease among investors, sending shares lower for health-system companies including insurers and pharmacy-benefit managers.
Health-care spending is taking up an increasing proportion of the U.S. economy, and a goal of the venture is to "at least" halt that, Buffett said, adding that he hopes "we could find a way where perhaps better care could be delivered even at somewhat lesser cost."
The venture is initially being guided by three senior executives from the companies: Berkshire's Todd Combs; Marvelle Sullivan Berchtold, a managing director at JPMorgan who previously worked at drugmaker Novartis AG; and Beth Galetti, a senior vice president for human resources at Amazon. 
Todd Combs
Combs, who's on the board of JPMorgan, has likely talked about the idea with Chief Executive Officer Jamie Dimon, Buffett said. "He participated probably more in the discussion than I did, but I love the idea of tackling what I regard as the major problem in our economy," Buffett said.
The billionaire said the venture expects to hire a chief executive within a year who will flesh out how the enterprise will proceed. And he cautioned that it will be a slow process before showing results.
"I'm hopeful but don't expect any miracles out of us soon," he said. "This is not easy. If it was easy, it would have been done."
Read more: Why fixing health care won't be easy
Buffett was also asked on CNBC about Berkshire's investment in the generic drugmaker Teva Pharmaceutical Industries Ltd. He said the investment was made by one of his deputy stock pickers, and that he didn't know the reasons they made it.
"Teva's not a stock I bought, it's one of the other two and I never talked with him about it," Buffett said.
Read how Teva's Buffett bump waned after Monday's comments
Buffett released his annual letter to shareholders on Saturday. In it, he noted that last year was quiet for dealmaking at his company as the cost of buying other businesses was reaching an "all-time high."
Here are some other takeaways from Berkshire's letter to shareholders and from his interview Monday:
On dealmaking:
On GE:
On investing:
On earnings:
Quotes from this Article
Before it's here, it's on the Bloomberg Terminal.
LEARN MORE