Trump Fights Complacency at a CPAC Sapped of Insurgent Energy
By
Annual right-wing gathering revels 93% backing for president

'America First' sentiment in the air, Nigel Farage on hand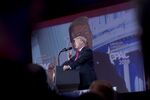 The crowd at the annual Conservative Political Action Conference was lower-key and often sparser than in recent years, when the anger and existential dread generated during eight years of a Democratic presidency electrified the conservative movement.
"There's a different energy here, as opposed to opposition and negativity -- less anger," Dale Bellis, a conservative activist, said in an interview after addressing the conference on Friday. "Anger and fear many times drives us more than does optimism and hope. And so, yeah, we do need to maintain that edge."
President Donald Trump channeled that anger to win office. He tried to rouse it again on Friday with a lengthy, campaign-style speech that hit some of his -- as well as the audience's -- favorite touchstones: "fake news," Obamacare, "crazed" Democrats, Hillary Clinton, and his long-shot victory in 2016.
Unsurprisingly, results of a a straw poll released on Saturday showed Trump had a 93-percent approval rating among attendees at a conference at which European-style populism and "America First" nationalism were all the rage. Attendees booed a panelist Friday who spoke glowingly about naturalization ceremonies for new U.S. citizens, a reflection of anti-immigration sentiments at a summit that featured speeches by two prominent European nativists: Britain's Nigel Farage and France's Marion Marechal-Le Pen.
Enthusiasm Needed
The test for Trump and the conservatives who've swung into line behind him will be keeping that enthusiasm, and broadening their appeal. "If we want an audience with young people, we have to separate ourselves from the men of our side who've behaved atrociously toward women," conservative columnist Mona Charen said on Saturday in an appearance that criticized Republican "hypocrites" and also drew boos.
That may determine whether they're able to hold on to that power after the November congressional elections. Historical trends and recent polling give Democrats a chance at retaking a majority in the House and possibly the Senate.
Trump warned CPAC attendees that complacency would see them "clobbered" in the mid-terms. "We have to worry -- right now, we have a big race coming up in '18," he said. "You have to get out. You have to just get that enthusiasm. Keep it going."
At this year's iteration of the American Conservative Union's annual conference, a draw for dedicated conservatives and Republican presidential hopefuls since 1973, attendance was heavier on college students than long-standing movement intellectuals. The booths in the hallways of Gaylord National Resort & Convention Center just outside Washington were less packed. Few Republican stars -- with the exception of Texas Senator Ted Cruz, Trump's main rival for the 2016 nomination -- made appearances.
No Longer Insurgents
"It's a less carnival-like atmosphere," said Ryan Williams, a Republican strategist who was a spokesman for Mitt Romney's 2012 presidential campaign. "We run everything now, so there's not the insurgency that used to drive things."
Even though they've won Washington, the activists at CPAC often were most energized by political adversaries. Former President Barack Obama, target of their ire for his two terms in office, was gone, while his would-be successor, Clinton, was vanquished by Trump 15 months ago. Clinton, the former Secretary of State and first lady, continued to captivate the conservative imagination.
Nostalgic "lock her up!" chants erupted Friday as Trump mentioned his "crooked" former opponent. The same incantation was heard Thursday during a speech by activist Ben Shapiro.
Enemies List
"We haven't forgotten Hillary Clinton," said a video message played before the crowd on Thursday and again on Friday.
Wayne LaPierre, the National Rifle Association's chief executive officer, drew applause and cheers by knocking several rumored 2020 Democratic presidential contenders, liberal Hollywood, the Internal Revenue Service, the "rogue" FBI, the Antifa (anti-fascist) movement, European-style socialism, liberal financier George Soros, and Saul Alinsky, a community organizer who died in 1972.
LaPierre warned, without offering evidence, that the right's political opponents "hate the 2nd Amendment" and want to eliminate it so they can "eradicate all individual freedoms."
Charlie Kirk, a 22-year-old conservative activist, said universities were another enemy of the right.
Sharp Rhetoric
"Do not give money to higher education. They are going to put that money directly to the destruction of western civilization," he told the crowd on Thursday. "Unless it's Hillsdale, Grove City," he added, referring to conservative colleges in Michigan and Pennsylvania, respectively.
The response to that sharp rhetoric was stronger than the sleepier mood that greeted most other speeches and policy-driven discussions about economics, taxes, business deregulation and criminal-justice reform.
For many, the desire to protect Trump against his political enemies was top of mind.
"Hanging over everyone's head is that Nancy Pelosi and everyone is going to try to impeach Donald Trump if Democrats win," said Sharon Gripshover, a 76-year-old retired physicist from Virginia. "Nobody's really saying that here, but it's in the air."
Republican National Committee Chair Ronna Romney McDaniel urged attendees on Friday not to let America "go back to the dark ages" of Democrats, including Californian Pelosi, being in control of Congress.
Lee Harvis, 74, a private educator from Maryland, said conservatives are "more comfortable" this year than they were during the Obama era. "There's still a lot to be angry about, but we're not fighting in the Warsaw ghetto anymore," he said.
Before it's here, it's on the Bloomberg Terminal.
LEARN MORE