After Olympics Success, What's Next for North Korea?
By
President walks tightrope between Donald Trump and Kim Jong Un

Must decide how to handle military drills, Kim's summit offer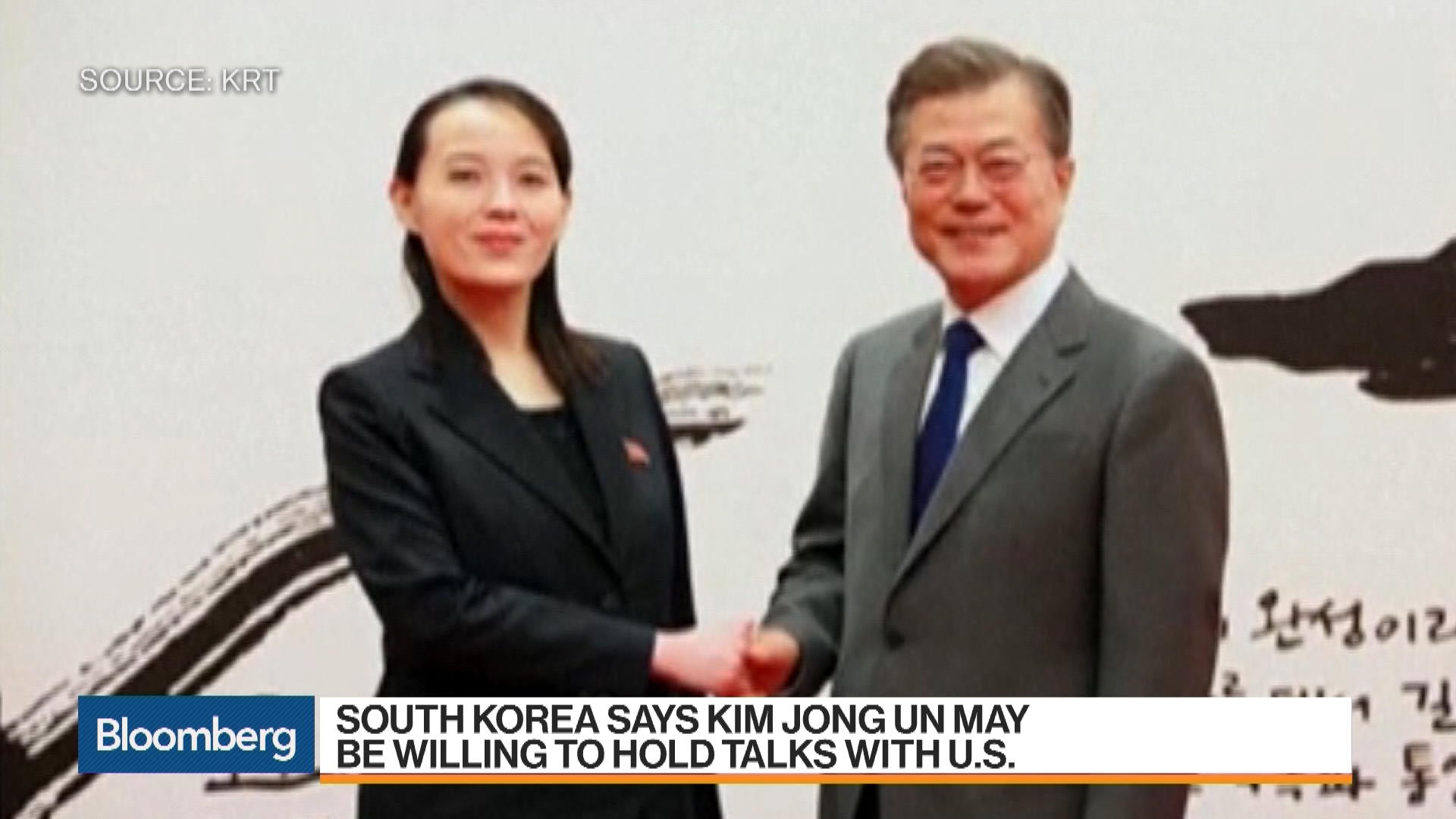 With a two-hour spectacle of drones and K-Pop on Sunday, South Korean President Moon Jae-in celebrated the end of a Winter Games that fostered a fragile peace with North Korea. Now, he's got to make it last.
Even before North Korean athletes started returning across their fortified border, Moon was juggling two big questions: Whether to press U.S. President Donald Trump to tone down or postpone upcoming military drills that risk to reigniting tensions. And whether to accept Kim Jong Un's invitation to meet in the North Korean capital.

The choices lay bare Moon's predicament. He wants to preserve an Olympic detente that saw Korean athletes march under a unified flag and Kim's sister offer the first leadership meeting between the neighbors in 11 years. But he doesn't want to hurt his alliance with Trump, who has vowed "maximum pressure" to make North Korea give up its nuclear weapons program and to use military force, if necessary.
Ahead of Sunday's closing ceremony at the Olympic Stadium, there were signs of friction. Kim sent as his envoy a ruling party official whom many South Koreans blame for sinking one of their warships in 2010, killing 46 sailors. Meanwhile, Trump levied new sanctions to disrupt trade with North Korea and predicted a "very rough" phase if the campaign failed.
A South Korean official involved with peninsular nuclear issues said Moon was seeking a way to carry out the planned military exercises that won't prompt a response from North Korea. Seoul hoped to persuade Pyongyang to open a direct dialogue with the U.S., which would lay the ground for a meeting between Moon and Kim, said the official, who spoke on the condition of anonymity due to the sensitive nature of the talks.

The North Korean delegation abruptly canceled a meeting with Vice President Mike Pence at the start of the Olympics earlier this month, the Trump administration said last week. On Sunday, South Korea's presidential office said North Korean delegates expressed a willingness to talk with the U.S., but Ivanka Trump, the president's daughter and representative to the ceremony, didn't greet any VIPs from Pyongyang.
During his hour-long meeting with North Korean officials, Moon mentioned a detailed road map for denuclearization -- a two phase plan of "freeze first and complete disarmament second," Yonhap News reported Monday, citing unidentified people in the presidential office.
Moon, who was elected in May on a promise to improve ties with Pyongyang, has seen his approval rating rise 5 percentage points to 68 percent over the past two weeks, according to a Gallup Korea poll published Friday. A Realmeter survey released earlier this month showed that 62 percent of South Koreans approved of the summit with the North Korean leader.
The South Korean president must make headway before the Winter Paralympic Games end March 18. The allies have said their mass military drills, which North Korea has denounced as a rehearsal for war, will begin shortly thereafter.
"If the joint drills are low-key and North Korea refrains from reacting too wildly, then it could be a good start for exploratory talks between the U.S. and North Korea to at least freeze Pyongyang's nuclear program," said Koh Yu-hwan, who teaches North Korean studies at Dongguk University in Seoul.
| Date | Event |
| --- | --- |
| Mar. 18 | Winter Paralympic Games end |
| Mar. 19-31 | Military exercise plans expected  |
| Early April | Probable start of exercises |
| Apr. 25  | Anniversary of North Korean army |
North Korean state media said Feb. 19 that the nation was "fully ready for both dialogue and war." "The Trump group's racket for resuming the war exercises is a wild act of ruthlessly trampling even a small sprout of peace that has been now seen on the Korean peninsula," the Korean Central News Agency said in a separate commentary.
The U.S. and South Korea postponed the large-scale Key Resolve and Foal Eagle exercises from their usual early March start after Kim initiated the Olympic dialogue. The South Korean Defense Ministry said last week they would go forward to hone plans to detect, disrupt, destroy and defend against North Korean missiles, Yonhap reported.
Moon wants to avoid provoking another weapons test by Kim, whose regime has a pursued nuclear arsenal for decades to deter any U.S.-led invasion. Kim declared his weapons program complete after his last rocket launch Nov. 29 -- an intercontinental ballistic missile that arms control experts believe could reach any U.S. city.
Shin Beomchul, a professor at the Korea National Diplomatic Academy, said one option for toning down the drills would be to deploy fewer strategic U.S. assets, such as aircraft carriers or nuclear-capable bombers.
How North Korea managed to crash the Olympics party
U.S. officials have sought to play down the prospect of any disagreement with Moon over his efforts to engage Kim. A U.S. State Department official, who asked not to be named because they weren't authorized to speak publicly, said both sides agreed that relations between North Korea and South Korea can't progress separately from talks to end Kim's weapons program.
Pentagon spokeswoman Dana White said Thursday that the allies weren't yet ready to announce their plans for the exercises.
"We will have more details once the Olympics are over," White said. "And then there'll be an alliance decision about how and when we move forward."
— With assistance by Nick Wadhams, Larry Liebert, Jihye Lee, and Sam Kim
Before it's here, it's on the Bloomberg Terminal.
LEARN MORE