Xi's Debt Crackdown Goes Into Hyperdrive With Anbang Takeover
By
Move shows determination of government to get a grip on debt

In China, the lines blur between private and public companies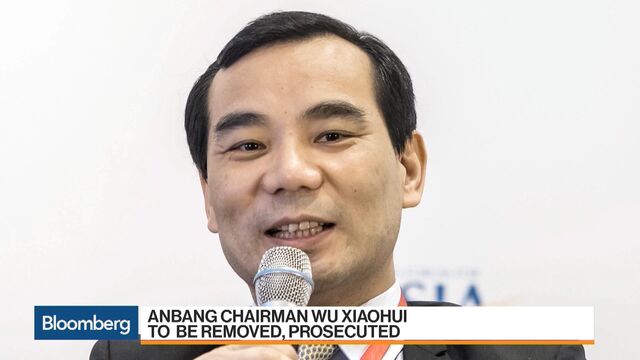 If you needed confirmation about China's determination to rein in surging corporate debt, the dramatic government takeover of Anbang Insurance Group Co. is pretty much it.
The unprecedented seizure of a private insurer underscores President Xi Jinping's policy drive to cut back on the debt-fueled excesses that have accompanied China's growth miracle. It's a direct hit to corporate binge spending that authorities want to stem; it energizes a long running anti-corruption campaign; and it demonstrates that short-term economic pain will be tolerated for the longer-term goal of a more sustainable expansion.
For the rest of the world, the intervention offers up a useful reminder: When you do business with China, you do business with the Communist Party.
"It's a new example of the seriousness of Xi Jinping's government to insert the party and the state at all levels of business," said Fraser Howie, co-author of the book "Red Capitalism" who has two decades of experience in China's financial markets. "They have no qualms about coming in over the top and saying 'we are going to take this over.'"
He likened the takeover to the U.S. Federal Reserve, the Financial Industry Regulatory Authority and the Securities and Exchange Commission coming together to restructure a company.
Read more on the detail of China seizing Anbang, charging its founder
While Anbang has been in the government's cross hairs for some time, the takeover still came as a shock. As recently as last week the chief executive officer of Hilton Worldwide Holdings Inc., which manages New York's Waldorf Astoria hotel on behalf of owner Anbang, downplayed talk that the Chinese insurer was selling the hotel. Now, Hilton will find itself working with the Chinese government.
The backdrop to the pincer move on Anbang and its founder Wu Xiaohui, who is to be prosecuted for alleged fraud, is a robust economy that's giving officials the running room to crack down on debt excesses without depressing growth. Overseas investment by Chinese companies has been strictly curtailed since last year as part of the broader ambition to shift the economy onto a more sustainable footing after years of debt-fueled expansion. 
Because China is self financed and credit is steered by state-owned lenders to state-controlled or linked companies, authorities have the luxury of intervening at their whim to shuffle money from one section of the economy to another. That's one of the key reasons why regulators are able to tackle Anbang and other high profile conglomerates without lawyers, shareholder activists or opposition politicians getting in the way.
Xi has placed financial stability on a par with national security and officials have warned of the urgent need to curb credit growth in the world's No. 2 economy. Total borrowing will exceed 325 percent of gross domestic product by 2022 from roughly 260 percent in 2016, according to Bloomberg Economics. Much of that debt is held by state-owned enterprises, which continue to crowd out private enterprise.
How China Is Getting Serious About Financial Risk: QuickTake Q&A
To be sure, decisions such as the one to rein in Anbang won't be without risk. 
"BANG! is the operative word," said Michael Every, head of financial market research at Rabobank Group in Hong Kong. "Clearly this indicates there is major risk - the issue now is how do they de-risk and downsize the firm when we know that this wouldn't have been needed if there weren't risky/speculative/pyramid schemes in play."

The Anbang intervention is "negative for growth given how much has been driven by all this froth," Every wrote in an email, and an "ENORMOUS negative if they get this wrong."
Quotes from this Article
Before it's here, it's on the Bloomberg Terminal.
LEARN MORE