Trump Embraces Guns for Teachers, Scorns 'Coward' Florida Deputy
By
Bonuses to teachers who carry guns among Trump's suggestions

President praises gun lobby a week after Florida massacre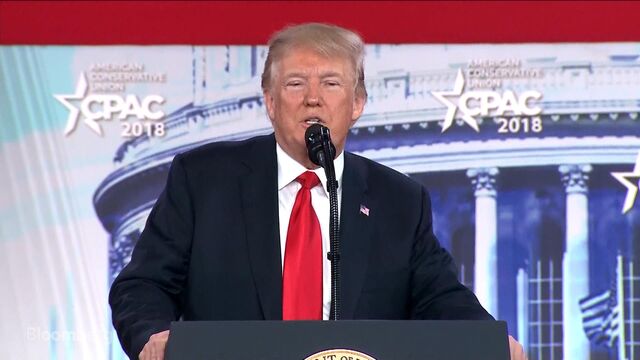 President Donald Trump intensified his call to arm "gun-adept" teachers and school staff on Friday, taking another step toward gun-rights advocates even as he proposes some changes they've long opposed.
The president was met with cheers at the Conservative Political Action Conference when he proposed that trained school officials carry concealed weapons. He said armed faculty members could have stopped last week's school shooting in Parkland, Florida, where a gunman killed 17 people.
"A teacher would have shot the hell out of him before he knew what happened," Trump said.

As Trump spoke, Florida Governor Rick Scott, a Republican, announced the state will raise the legal age requirement for purchasing a gun to 21 from 18. Trump told the CPAC crowd that he also supports such a move, as well as tougher background checks, even though gun-rights advocates, including the powerful National Rifle Association, have long opposed them.
Read more: The U.S. gun debate -- a QuickTake explainer
Efforts to quickly address gun violence in the wake of the Parkland massacre are beginning to face a familiar political reality, as the NRA reasserts its traditional power in Washington. For just over a week following the shooting, those pushing for a range of restrictions on firearms held the day as the National Rifle Association remained mostly silent. That appeared to fizzle Thursday when Trump embraced the group and offered support for arming teachers and other school personnel.
Trump said he spoke Friday morning to Republican House Speaker Paul Ryan and Senate Republican Leader Mitch McConnell on on a response to the school shooting. "People are looking to really energize," he said.
Trump also disparaged an armed sheriff's deputy who was present at the Parkland high school during the shooting but stayed outside the building, calling him a coward. He said armed and trained teachers would be more likely to face down an attacker because "they love their students."
The Florida deputy, Scot Peterson, "certainly did a poor job," Trump told reporters earlier in the day as he left the White House. The deputy "didn't react properly under pressure or they were a coward," the president added. Peterson was assigned to the school as a resource officer and was on the campus when shooting began.
"What he did, he's trained his whole life, there's an example, but when it came time to get in there and do something, he didn't have the courage or something happened," Trump said.
NRA Chief Executive Officer Wayne LaPierre spoke to the CPAC audience Thursday. LaPierre was met with hearty applause as he accused Democrats and "elites" of wanting to "eradicate all individual freedoms."
Trump has backed paying bonuses to teachers who carry guns in the classroom.
"You have to have a certain amount of offensive power within the school. It can't only be defense," Trump told reporters.
Trump's remarks were in stark contrast to his calls earlier this week for tougher gun laws than he's backed since before he began running for president in 2015, including a proposal to strengthen the federal background check system and raising the minimum age for buying a semi-automatic weapon to 21, something the powerful NRA has made clear it opposes.
Shares in gun stocks fell on the announcement by Scott, the Florida governor, that the state would require all gun purchasers to be at least 21 years old and invest $500 million in a school safety plan. American Outdoor Brands Corp., formerly Smith & Wesson, dropped 1.7 percent to $9.95 and Sturm Ruger & Co. dropped 1.6 percent to $48.20 at 1:00 p.m. New York time.
Biggest Lobby
But Trump heaped praise on the NRA Thursday, calling its leaders "good people" who are "ready to do things" to guard against gun violence. He's relied heavily on the group's positions and talking points -- including the call for some teachers and other adults in schools carry guns, and suggesting that violent movies and video games are to blame for some shootings committed by young Americans. 
"Not surprised the NRA reeled President Trump back in," Senate Minority Leader Chuck Schumer said in a statement Thursday. "Just amazed at how fast it happened."
The NRA is one of the biggest spenders in elections, ranking ninth among all outside groups, according to the Center for Responsive Politics. In 2016, the organization's political arms spent $54.4 million influencing elections, Federal Election Commission records show, including $19.8 million attacking Democratic nominee Hillary Clinton and $11.4 million promoting Trump. 
The NRA also spent $500,000 or more on seven Senate races, including in battleground states Florida, Ohio and Wisconsin.
LaPierre said Thursday that those in favor of tighter gun laws "want to sweep right under the carpet the failure of school security, the failure of family, the failure of America's mental health system, and even the unbelievable failure of the FBI." Like Trump, he called for armed security at schools and said that "gun-free zones" make for easy targets, something that Trump has also said this week.
Still, Trump pledged to take action at an emotional White House meeting on Wednesday with students, parents and teachers who have been affected by school shootings, including the Feb. 14 massacre at the Marjory Stoneman Douglas High School in Parkland, Florida.
'Need to Beat Them'
The president said Thursday that he believes his side is on board. "There's a great feeling, including at the NRA, including with Republican senators, and hopefully Democrat senators and congressmen," he said at a meeting with state and local officials that included just one Democratic official, the mayor of Parkland.
Congressional Democrats have been mixed in their reaction to Trump's apparent willingness to buck pro-gun orthodoxy, even if only on a smaller issue like age limits.
Hawaii Senator Brian Schatz said Thursday on Twitter that he wasn't interested in deal-making on guns. "I am normally interested in compromise. Not this time," he wrote. "I cannot imagine a bill that would make a difference that the NRA supports. We don't need to cut a deal with them, we need to beat them."
White House spokesman Raj Shah said Thursday the president was still open to proposals.
"The president is proposing ideas, he's listening right now," Shah said."Right now we're in a listening phase. I wouldn't say that we are or aren't going to propose something as specific as legislative language" but he will put forward something "a little more concrete."
Michael R. Bloomberg, founder of Bloomberg LP, which operates Bloomberg News, serves as a member of Everytown for Gun Safety's advisory board and is a donor to the group. Everytown for Gun Safety advocates for universal background checks and other gun control measures.
— With assistance by Justin Sink, Terrence Dopp, and Bill Allison
Before it's here, it's on the Bloomberg Terminal.
LEARN MORE