markets
Equity Investors Fleeing Wall Street Are Turning to Europe
By
Year-to-date, U.S. funds see outflows, Europe sees inflows

Plenty of reasons playing in favor of Europe as bonds rise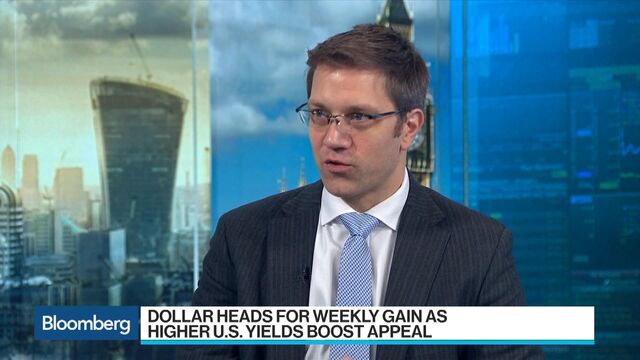 Tempted in buying the dip? OK, just maybe not the one in U.S. stocks.
While Wall Street is still reeling from its first 10 percent correction in two years, U.S. equity funds continue to suffer outflows, according to Bank of America Merrill Lynch, and the money is resurfacing in Europe.
In the week ended Feb. 21, U.S. funds saw redemptions of $2.4 billion, adding to recent record outflows, BofAML said, citing data from EPFR Global. Meanwhile, Europe funds saw inflows of $3 billion, enjoying brisk inflows for a second week in a row. So far this year, U.S. funds have seen outflows of $22 billion, while Europe has seen inflows of $15 billion.
And there are plenty of reasons to switch to European equities, which have been trailing for years: much more reasonable valuation levels, the world's richest dividends while bund yields remain below 1 percent, a booming economy and no interest rate hike on the horizon.
While U.S. stocks feel the pinch from U.S. 10-year Treasury yields zooming in on the "pain threshold" of 3 percent, Europe offers investors payout yields close to 300 basis points above those on the German 10-year benchmark bonds. And for investors worrying about frothy valuation levels of U.S. tech stocks such at the "FANG," be reassured: there's no such stock in "boring" Europe.
Before it's here, it's on the Bloomberg Terminal.
LEARN MORE