business
Brexit Bulletin: May's Deal Might Not Hold
By
Crunch talks at PM's country house appear to end in compromise

U.K. will stick to most EU rules on its own terms, reports say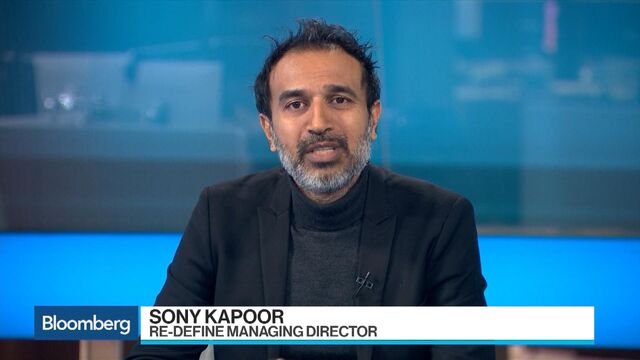 Sign up to receive the Brexit Bulletin in your inbox, and follow @Brexit on Twitter.
Theresa May shut her ministers away in the countryside, and it seems some progress was made toward a united position on Brexit. But agreeing among themselves to ask the European Union for something that Brussels has already rejected might not feel like success for very long.
May gathered her ministers at Chequers, the prime minister's official country home, for an eight-hour meeting, and the BBC reports that they more or less agreed that the U.K. will stick to EU rules, but on its own terms. The Financial Times reports ministers agreed on a proposal called "Canada plus plus plus."

The meeting was needed to help break a deadlock in the government and reconcile ministers who advocate different approaches to the future relationship with the EU. Brussels has grown impatient with the lack of a clear U.K. position, and deadlines are looming for decisions on the shape of transition and the start of trade talks.
The strategy that has emerged in recent weeks is one that May first hinted at in her Florence speech last September – sticking to EU rules in certain areas, abiding partially by them in others, and ditching them completely in a few more.
But there's a problem with this "three baskets" approach. It clashes with the EU's long-held view that the U.K. cannot "cherry-pick" its way through Brexit; the European Commission pre-empted the Chequers meeting by posting a presentation just hours before that clearly ruled out the emerging U.K. strategy.
Trade talks are due to start next month and there's a growing risk they start in stalemate. If the U.K. and EU are to reach even an outline agreement on the future relationship in time for Brexit day, negotiating teams will have to work quickly to move their positions closer together. Past patterns suggest it's the British who will have to move furthest.
But it's possible that a fudged position on the future relationship remains in place through this year, and even through Brexit day itself. While the U.K. government is adamant it wants a detailed trade deal agreed by the end of the year, it could be in both sides' interest to ensure the priorities are agreed – an orderly exit and transition deal.
Still, lawmakers might object to approving the withdrawal deal if they don't have a clear idea what the future relationship might look like. And those in the EU who still want to see the U.K. change its mind will want to force U.K. voters to take a long hard look at what the future holds.
Brexit Latest
Airbus Changes Tune | In a sharp turnaround by a staunch Brexit critic, Airbus CEO Tom Enders has personally promised the U.K. government the company plans to retain its British operations "long into the future," Alex Morales and Ben Katz report. 

Brexit Boosts Wages | Brexit is delivering on a pledge made to its ardent supporters: wages are going up at the same time as Europeans stay away. British farmers have started handing out bonuses or raising pay, subsidizing housing or upgrading mobile homes. Meanwhile, employment in the U.K. among nationals from eastern states such as Poland, Lithuania, Bulgaria and Romania fell for the first time since 2009, according to figures this week from the Office for National Statistics, in the biggest sign that the days of plentiful and cheap labor are over.

Irish Resistance | The EU opposes turning May's pledge to avoid a border in the Irish Sea after Brexit into a legal guarantee, Dara Doyle reports. May made the promise in December to placate the Democratic Unionist Party that's propping up her government. But the EU sees it as an internal matter, according to a diplomat familiar with the situation. Negotiations are ongoing, but it's another sign that the border issue is the one to watch.
Will Corbyn Come Clean? | Labour leader Jeremy Corbyn will present his Brexit vision on Monday – a few days before May does the same. On Tuesday Corbyn said "we have to have a customs union," in an apparent policy shift. Confirmation could shift the terms of the Brexit debate and spell trouble for May's plans. There is probably a majority in Parliament for staying in the customs union, and business wants it too. Meanwhile, Corbyn's union leader friend Manuel Cortes, who opposes Brexit, reckons the Labour leader could change his mind, according to the New Statesman.
Losing the Rebate | If the transition is extended and with it the U.K.'s payments into the EU budget, Britain would lose its historic rebate from 2021, the Guardian reports. The next seven-year EU budget cycle starts in 2021 and Britain would be contributing to a new budget over which it will have had no say.
Capitulation on Citizens | May has given up the fight over citizens' rights, meaning EU nationals who arrive in Britain during the post-Brexit transition period will be allowed to stay permanently, the Times reports. 
The View From Sweden | It's in Sweden's interests for the U.K. to join the European Economic Area (EEA) after Brexit to facilitate free trade, according to a government-commissioned report. Motor vehicles and business services are the key areas for Sweden.
On the Markets | The U.K. economy expanded less than previously estimated in the fourth quarter as consumers and businesses absorbed faster inflation, keeping the country in the slow lane of global growth. The pound edged lower on Thursday and slipped in early trading on Friday to $1.3933.
And Finally...
Never mind what was said: what was on the menu at Chequers and what did it mean?
Slow-braised Guinness short rib of Dexter beef was surely a nod to the Irish question. Ham hock croquettes sound a distinctly Anglo-French affair. The lemon tart was served with fresh raspberries, which at this time of year must be imported. And cream of sweetcorn soup: is that what Americans call corn chowder? 
There was something for everyone, however you like your Brexit. Best of all, it wasn't chicken lasagne. Or cake.
For more on Brexit follow Bloomberg on Twitter, Facebook and Instagram
Before it's here, it's on the Bloomberg Terminal.
LEARN MORE