business
U.K. Economy Stays in the Slow Lane as Growth Revised Lower
By
Pound weakness has pushed up inflation, hurting consumers

Economists say pace of expansion may not improve this year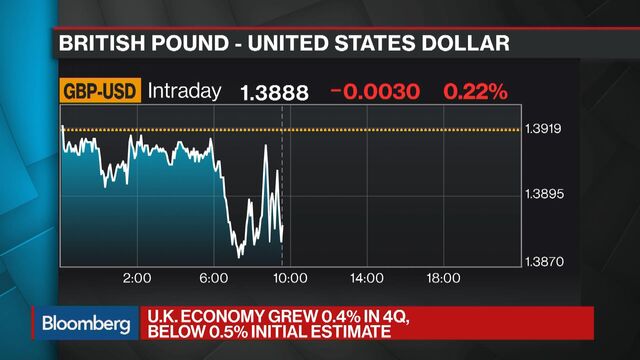 The U.K. economy expanded less than previously estimated in the fourth quarter as consumers and businesses absorbed faster inflation, keeping the country in the slow lane of global growth.
The 0.4 percent expansion -- revised down from 0.5 percent -- also left full-year growth below the initial estimate. On an annualized basis, the rate was 1.6 percent in the quarter, compared with a 2.6 percent pace in the U.S.

Household-spending growth slowed in the fourth quarter, business investment was stagnant and exports fell. The pound fell for a fifth day against the dollar and was down 0.2 percent at $1.3884 as of 11:10 a.m. London time. Gilts were little changed, with the 10-year yield at 1.559 percent.
Responding to the detailed report from the Office for National Statistics, John Hawksworth, chief economist at PwC, said the latest numbers don't change his view and he expects "relatively modest" growth in 2018. At Pantheon Macrcoeconomics, Samuel Tombs said the economy "remains in a fragile state" and stagnant business investment suggests Brexit is "still fostering caution in boardrooms."
Forecasts compiled by Bloomberg show U.K. expansion is expected to be about 1.5 percent this year. That's below the rates anticipated for the U.S., euro area, Germany and France.
Part of the economy's weakness reflects the fallout from the pound's drop since the vote to leave the EU in 2016. After inflation surged, household spending rose the least in five years in 2017. But there's also been an upside, with some boost to exports. Trade contributed 0.4 percentage point to growth last year, the first time it's added to the expansion since 2011.
The merits of depreciation were on debate on Wednesday as Bank of England Governor Mark Carney and fellow policy makers took questions at a Parliament committee. Most agreed that devaluations just make people "poorer," something that's reflected in the weaker consumer behavior and retail sales over the past year.
The overhang of Brexit means uncertainty for companies and consumers and downward pressure on demand. Divisions within government aren't helping the situation, and Prime Minister Theresa May is gathering with her most senior cabinet ministers on Thursday in a bid to end the rift over the EU exit process.
Even with the economy on a weaker growth path, inflation has taken over as the BOE's primary concern. It's currently at 3 percent, a full percentage point above target, prompting the central bank to increase its key interest rate in November. 
Officials say that more tightening will be needed to keep prices in check, though Carney refused to be drawn on the exact timing of the next hike on Wednesday. Market pricing suggests it could happen as soon as May.
— With assistance by Harumi Ichikura, and Ainhoa Goyeneche
Before it's here, it's on the Bloomberg Terminal.
LEARN MORE