politics
Poland's Leader Has a New Plan to Reshape the Economy
By , , and
Premier says bigger state role can help cut foreign dependence

Polish capital needs to be more expansionary, Morawiecki says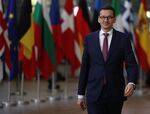 Seeking a drastic change in Poland's growth model, its new prime minister wants to reshape the European Union's biggest eastern economy in the mold of South Korea or Japan, where governments and "national champions" drive expansion and rely less on foreign investment.
"I'd dream to be in the situation of Korea, which was poorer than us just a few decades back," Premier Mateusz Morawiecki said in an interview in Warsaw on Wednesday. "Poland was in a communist environment -- and after one and a half generation, they are far ahead of us. So I wish the clock could be reversed."
The reboot would do away with an economic blueprint adopted after the collapse of communism almost three decades ago across eastern Europe, which looked to western capital flooding into manufacturing to take advantage of lower wages and proximity to key markets. But since the Law & Justice party swept to power in Poland two years ago, the government has expanded its role with acquisitions from banking to energy, a tilt in economic policy that mirrored the country's broader embrace of populism.
"Sometimes politicians are better at stimulating, and have to help in case of market failures or in areas like infrastructure," Morawiecki said. "This is where state involvement is needed."
QuickTake: Poland's Populist Turn
Increasing the state's role was a necessary step since private capital is too weak and cautious, according to Morawiecki, who once headed the Polish unit of Spain's Banco Santander SA and became prime minister last December. That's because Poland lacks the equivalent of Spanish construction giants or the kind of conglomerates that dominate South Korea's economy, he said.
When asked about a potential merger between the country's two largest refiners -- PKN Orlen SA and Grupa Lotos SA -- as a means to create an oil champion, Morawiecki expressed support for the idea of boosting scale but stopped short of endorsing a specific plan. "In general, yes," he responded to a question of whether such a tie-up would help the expansion of Polish capital.
"Specifically, I can't confirm as I'm not here to suggest to anybody who should merge with whom," Morawiecki said. "It's the prerogative of the supervisory boards and managements. But scale is important."
After a wave of privatization in the 1990s, and more market-friendly policies pursued by Law & Justice's predecessors, Morawiecki said the government has opted to boost social transfers to ease competitive pressures within Poland. The state is now a force behind entrepreneurship, savings, investments and innovation and wants foreign capital to be involved in technology-driven greenfield projects, as private owners are better at allocating funds, he said.
'More Expansionist'
"I'd wish that private capital was much more expansionist, more brave in expanding, as Poland is too small," he said. "The only thing we can do is to stimulate mid-size companies to go ahead and expand with our developmental instruments."
Poland is already making some headway in reducing its dependence on outside funding, with foreign ownership resulting in annual transfers of about 100 billion zloty ($30 billion) in dividends and other outflows. As a sign that change is under way, Morawiecki points to Poland's current-account balance turning positive in 2017 for the first time in 30 years.
Other successes include a declining share in foreign holdings of sovereign debt, which has dropped to 50 percent from near 60 percent three years ago, and boosting budget revenue to finance the deficit instead of using privatization proceeds, he said.
The yield on Poland's 10-year bond fell 3 basis points to 3.47 percent on Thursday, compared with 3.21 percent when Morawiecki became premier. The zloty weakened for a third day, declining 0.3 percent to 4.1845 against the euro at 10:14 a.m. in Warsaw.
Euro Entry?
Morawiecki's vision finds room for Poland remaining an open and interconnected economy. Still, while his government recognizes the strategic importance of euro adoption, the nation remains far behind its peers in the neighboring currency union in terms of economic convergence to consider giving up the zloty, he said.
"Strategically and geopolitically, we do discuss euro entry now and then, which is the right thing to do," Morawiecki said. "But from the point of view of real convergence, wage convergence and industrial convergence, we are quite a way from the moment where I would feel comfortable to recommend anything in this regard."
— With assistance by Konrad Krasuski
(
Updates with markets in 12th paragraph.
)
Before it's here, it's on the Bloomberg Terminal.
LEARN MORE