business
Nigeria Governor Says 50 Girls Missing After Attack by Militants
By and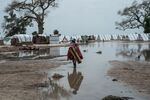 More than 50 girls in Nigeria are missing after Boko Haram militants attacked a school in the northeast on Monday, according to the governor of Yobe state.
"Out of the 926 students in the school, over 50 are still unaccounted for," Abdullahi Bego, a spokesman for Governor Ibrahim Gaidam, said in an emailed statement Wednesday. There's "no credible information yet as to whether any of the schoolgirls was taken hostage by the terrorists."
Government officials are working with the military and other security officials to find the students, Bego said in the statement. The girls went missing after militants made an "incursion" into a science and technical college in the town of Dapchi, it said.
Yobe borders Borno state, the epicenter of Boko Haram's nine-year insurgency. While the government has said several times that the Islamist group is all but defeated, militants continue to carry out suicide and hit-and-run attacks. In April 1014, it kidnapped more than 200 girls from the Borno town of Chibok, causing an international outcry.
Before it's here, it's on the Bloomberg Terminal.
LEARN MORE