economics
Carney Says More BOE Rate Hikes Ahead, Stays Vague on Timing
By
Governor says its unlikely markets will get clearer signal

U.K. wage growth may finally be taking hold, Haldane says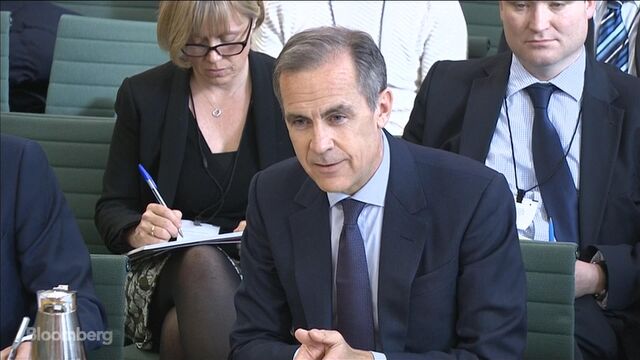 Mark Carney said the U.K. is headed for higher interest rates, but policy makers are reluctant to give clearer guidance on the timing of any future increase.
In testimony to Parliament's Treasury Committee Wednesday, the Bank of England governor stuck to the script from the Inflation Report released earlier this month, reiterating that the Monetary Policy Committee considers that rates will need to rise somewhat earlier and to a somewhat greater extent than previously anticipated.
Still, Carney refrained from committing to a precise path, and hinted that markets, which are now pricing in around an 80 percent chance of a move in May, may not get a clearer signal at the BOE's meeting on March 22. He said the "coming months" language from September that indicated an imminent hike was used specifically to get markets to shift their view. Investors may not get such an obvious clue again.
Markets weren't responding to data at the time "because they couldn't conceive of a tightening of policy during the Brexit negotiation process," he said. "By and large we couldn't break that, and so it was a fairly direct message."
In the same hearing Chief Economist Andrew Haldane said that the anticipated acceleration of U.K. wage growth amid record-low unemployment may finally be arriving. He pointed to recent surveys as evidence that pay settlements are increasing.

The BOE expects the rate of wage gains to hit 3 percent in the first quarter, from 2.5 percent currently, followed by a "pretty slow" increase from there, Haldane said. If such a move was realized, it would ease some of the squeeze faced by consumers in the wake of faster inflation since the Brexit vote.
"The long-awaited -- and we have been waiting for a long time -- pickup in wages is starting to take root," Haldane said. "We get intelligence from our agents that would suggest that wage settlements this year were going to pick up, perhaps to a number with a three in front of it, rather than a two in front of it."
In written testimony released during the hearing, Haldane said risks for the U.K. economy were "to the upside."
The pound pared some of its losses after Haldane's comments, and was 0.4 percent lower at $1.3942 as of 4:36 p.m. in London.
— With assistance by Andrew Atkinson, Lucy Meakin, Fergal O'Brien, Carolynn Look, Marcus Bensasson, Mark Deen, Stuart Biggs, Piotr Skolimowski, and Kevin Costelloe
(
Adds Haldane comments from fifth paragraph.
)
Before it's here, it's on the Bloomberg Terminal.
LEARN MORE