markets
Bank Stocks Could Emerge Winners From Tough South African Budget
By
Finance Minister Malusi Gigaba presents budget Wednesday

Banks could benefit if budget improves sentiment: Citigroup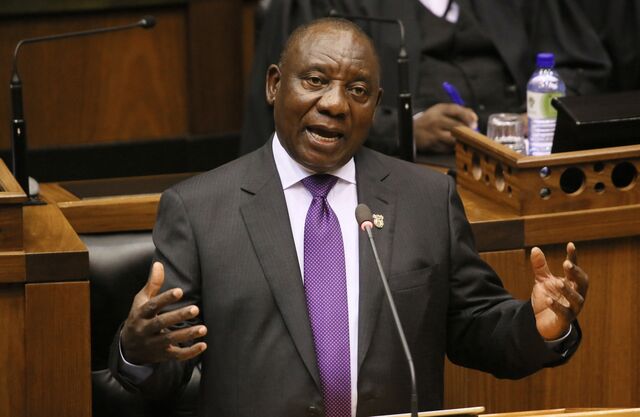 South African stock investors are bracing for the impact Wednesday's budget will have on their portfolios as Finance Minister Malusi Gigaba seeks ways to raise revenue and avert further ratings downgrades.
Gigaba will present plans aimed at narrowing a 50.8 billion-rand ($4.3 billion) gap in the nation's finances without endangering a fragile recovery. Along with various other revenue measures, he needs to produce a "needle mover," such as a 1 percentage-point increase in value-added tax, a form of sales tax, said Adrian Saville, chief strategist at Canon Asset Management in Johannesburg.
"The reality is there is a large hole that has to be filled in what up until now has been a very anemic economic growth environment," Saville said. A VAT increase would have a negative impact on equities, he said. Others took the view that a budget that succeeded in demonstrating good economic management could prove positive for some stock sectors.
Read more here on the tough choices facing Gigaba
South Africa could collect as much 22 billion rand by increasing VAT to 15 percent from 14 percent, PwC estimates. The step would help the budget achieve a path of consolidation, reducing the likelihood of a credit-ratings downgrade by Moody's Investors Service, which would protect sentiment toward the rand, Gina Schoeman, South African economist at Citigroup Global Markets, said by phone from Johannesburg. This boost for inflation would likely offset the impact of a VAT hike on prices.
Here's how South African stocks could fare after Wednesday's budget:
Banks, Retailers
Banks, as proxies for the South African economy, will benefit from improved sentiment if Moody's doesn't downgrade the country's sovereign debt and the VAT increase leads to accelerated growth, said Alec Schoeman, managing director at Citigroup Global Markets in Johannesburg.

"Along with banks, certain retailers, especially those with a credit element, certainly do act like bond proxies at times; consumer industrials overall, in terms of economic read-through, would certainly also feed through in there," along with real estate investment trusts, he said.
Rand Hedges
Stocks that prosper in times of rand weakness could fare less well, Alec Schoeman said.
"If it's a good budget and the rand firms, clearly the dual-listed names with the bulk of their earnings offshore are going to be the flipside to the coin that the domestics are benefiting," he said. These include names such as British American Tobacco Plc, Mediclinic International Plc and some of the U.K. and South Africa-listed property companies.
Before it's here, it's on the Bloomberg Terminal.
LEARN MORE