business
America Averts Bond Auction Armageddon
By
Traders get early signal of Treasury's cost to issue more debt

Results reinforce it's not a question of demand, but of price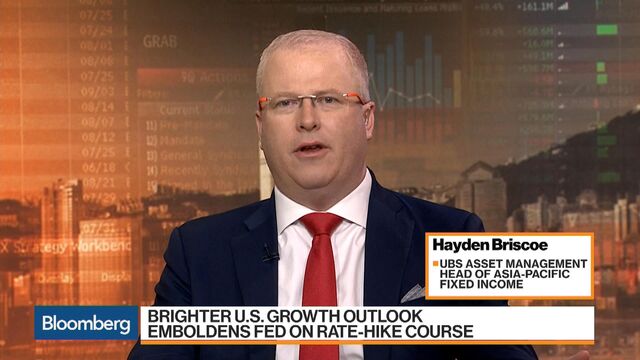 Bond traders can toast to successfully handling a massive wave of debt from the U.S. Treasury, at least for now. With the deluge of supply only just beginning, this week's auctions served as a reminder that the U.S. won't have trouble finding buyers for its debt, as long as it pays up.
The Treasury is through selling $229 billion of the $258 billion in bills and notes scheduled for this week, and the auctions have gone largely without a hitch. The biggest takeaway: yields in most offerings had to rise to the highest in eight or more years to attract investors. Strategists say the U.S. can probably expect a similar step-up in borrowing costs moving ahead in 2018.

"You'll get reasonable participation in the auctions as long as people aren't being pelted daily with bad news for bonds," Jim Vogel, a strategist at FTN Financial Capital Markets, said in an interview. But "can you say we're getting accustomed to supply, we've priced it in? We're just way too early," he said.
This week's highly anticipated supply was only this year's opening salvo. The U.S. budget deficit is set to widen and, to cover that, strategists expect the Treasury to stick to its pace of sales increases throughout the year. 
It announced in its quarterly refunding that it would lift 2- and 3-year note auctions by $2 billion per month over the first three months of 2018, while increasing 5-, 7- and 10-year notes and 30-year bond offerings by $1 billion each month. To top it all off, bill sales are set to swell after already hitting record levels this week.
Here are some key takeways from the coupon auctions this week:
The $35 billion five-year note sale came at a 2.658 percent yield, the highest at a sale of the maturity since December 2009
Similarly, the two-year note offering, at 2.255 percent, was the highest since 2008
At both auctions, the bid-to-cover ratio, a gauge of demand, slipped from last month, but remained right around the two-year average
Treasury's $151 billion of bill auctions showed some weaker metrics, but nothing overly alarming:
Three-month bills, even at the highest yield since 2008, had the lowest bid-to-cover ratio since December
Four-week notes drew the worst bid-to-cover ratio since 2008
Both maturities will be back on the Treasury's slate next week
With minutes of January's Federal Reserve meeting out of the way, all signs point to more-of-the-same from the Treasury's $29 billion seven-year note auction on Thursday. The current 2.87 percent yield is close to the highest since 2011.
"There has been a modest level of general concern that increased auction sizes would lead to sloppier bidding, but so far the (very) early evidence suggests that this is not a problem," Thomas Simons, a money-market economist at Jefferies LLC, said in a note.
Bills aside, the next test comes March 12, when the Treasury has scheduled enlarged 3- and 10-year note auctions.
— With assistance by Liz McCormick, and Alex Harris
Before it's here, it's on the Bloomberg Terminal.
LEARN MORE