markets
The U.S. 10-Year Looks Poised to Cross a Red Line This Week
By
Benchmark bond yield is nearing watershed 3 percent level

Hitting threshold could spark wave of risk repricing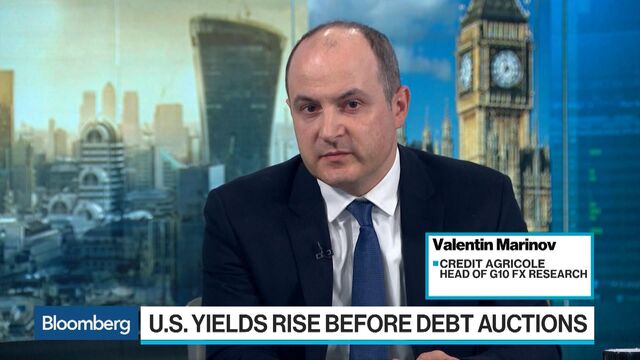 Enter the danger zone. Bond markets are signaling the 10-year U.S. Treasury yield may reach 3 percent as early as this week -- a potential watershed for risk appetite across asset classes.
A deluge of debt supply and the strengthening momentum of bears feeding off inflation fears could help send benchmark yields higher. The 10-year yield currently sits at about 2.9 percent, with the U.S Treasury poised to kick off a big week of issuance by auctioning $151 billion of short-term notes and $28 billion of two-year debt later on Tuesday.
The putative 3 percent threshold -- last reached on a closing basis back in December 2013 -- is rife with symbolism and material consequences for portfolios, from hiking corporate financing costs to eroding total returns on credit and curbing equity valuations.
"It just feels as if the market wants 10-year USTs to test the 3 percent level," says Martin van Vliet, a senior interest rate strategist at ING Groep NV in Amsterdam. "I would expect a lot of fresh longs to be set when 3 percent is reached."

Range-bound Treasuries and stable inflation expectations spurred a "Goldilocks" backdrop for financial markets in 2017, juicing stocks, corporate bonds and other types of financial assets around the world.
With bond yields poised to rise, that relationship may be upturned. CrossBorder Capital, for instance, reckons the 10-year yield could test 3.5 percent this year, which would set in motion a wave of repricing that would ripple across markets.
"U.S. safe assets -- the U.S. dollar and U.S. Treasuries -- have been trading 10 percent to 20 percent expensive," CrossBorder said. "As they adjust lower, more traditional risk assets will similarly fall in price, much like previously occurred in 1987 and 1994."
Even bond bulls like Aaron Kohli at BMO Capital Markets are bracing for the 3 percent test in the coming trading sessions.
"We've got supply and some supports have given way," he said, referring to the 10-year note breaching the 2.94 percent level last Thursday. "We could see another revisit this week."
— With assistance by John Ainger, and Joanna Ossinger
Before it's here, it's on the Bloomberg Terminal.
LEARN MORE