business
Trump Appointee 'Conflict' Throws Key Labor Ruling Into Doubt
The NLRB inspector general says a Republican board member should have recused himself from a decision protecting companies.
By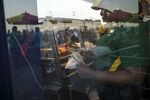 A top National Labor Relations Board appointee of U.S. President Donald Trump should have recused himself in a ruling that restricted employees of contractors and franchisees from pursuing claims against big corporations, the agency's inspector general said.
In a memo obtained by Bloomberg News, NLRB Inspector General David Berry flagged what he called "a serious and flagrant problem and/or deficiency" in the handling of conflict-of-interest issues by the agency. Berry's memo concerned a December ruling in which the NLRB reversed an earlier board decision by a Democratic majority making it easier for employees to pursue federal complaints against parent companies or other firms for which they ultimately work.
That controversial 2015 ruling widened the circumstances under which a company can be considered a "joint employer" of workers whom it doesn't directly pay, a lightning rod issue in franchise-filled industries from fast food to home care. The case had broad implications for questions such as whether a fast-food corporation would be responsible for union-busting by a franchisee, or whether a company is on the hook for any wrongdoing by a staffing company that supplies workers and legally employs them.
In an interview last year, International Franchise Association Chief Executive Officer Shelly Sun said the level of concern among the trade group's members was "similar to 30 minutes before the planes hit the World Trade Center."

Among the Trump appointees who took part in the 3-2 reversal was William Emanuel, a former management-side attorney whose old law firm, Littler Mendelson, had represented a contractor for Browning-Ferris, the waste company that lost the 2015 decision. Although the new, pro-company precedent involved Hy-Brand Industrial Contractors, organized labor cried foul over Emanuel's participation. The NLRB's earlier determination regarding Browning-Ferris being a joint employer, a 3-2 vote in which a Democratic majority prevailed, was still the subject of litigation pending in federal court—requiring Emanuel's recusal, the Teamsters argued.
The inspector general agreed. In his Feb. 9 report to the NLRB members, Berry wrote that Emanuel "should have been recused from participation" in overturning Browning-Ferris case. He cites an October email from then acting-NLRB Chair Philip Miscimarra, a Republican and former management-side attorney. Miscimarra shared a draft with other Republican board members (including Emanuel) of the Hy-Brand ruling and discouraged them from proposing changes, saying it mostly consists of "verbatim" language from the dissent in Browning-Ferris. He told them to keep in mind "what the draft accomplishes—restoring the joint-employer law to what existed prior to Browning-Ferris …"
Berry said that Emanuel's participation in the case shows the need for review of issues "to protect the board's deliberative process from actual conflicts of interest and the appearance of such." NLRB representatives and Miscimarra, who is returning to his old law firm, Morgan Lewis, declined to comment. (His replacement, John Ring, comes from the same firm). The IG's letter was previously reported by Law360.

In a Feb. 15 letter to members of Congress sharing the IG report, NLRB Chairman Marvin Kaplan said the agency was reviewing recusal procedures and "considering appropriate actions" regarding the Hy-Brand case.
Senator Patty Murray, a Democrat from Washington state and ranking member of the Health, Education, Labor and Pensions Committee, said Tuesday in an emailed statement that the NLRB "must reconsider its decision without member Emanuel's participation. It is the Board's responsibility to ensure workers' have a voice and corporations are being held responsible to respect employees' rights."
Former NLRB member Marshall Babson, a management-side lawyer, defended the handling of the Hy-Brand ruling, saying it would be "unworkable" to require members to recuse themselves from every case that could benefit a past client. "Berry's conclusions are erroneous, required neither by the law or by ethics requirements," he said.

But former NLRB chair Wilma Liebman, a Democrat who has represented unions, said the finding raises serious issues for the agency. Failure to recuse when appropriate could be grounds for federal courts to reject or remand NLRB rulings, she said, and the confluence of factors in the joint-employment case looks particularly suspicious.
"It raises a serious dilemma for the board about what to do about this decision," she said. 
(
Updates with NLRB comment in seventh paragraph.
)
Before it's here, it's on the Bloomberg Terminal.
LEARN MORE