business
Sprint's Endless Turnaround Plan Takes It Back to Junk Bonds
By and
New CFO ends three-year run without high-yield financing

No sign that parent SoftBank is chipping in on 5G expansion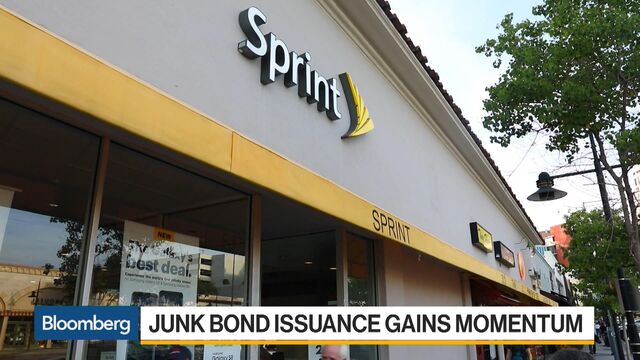 A month after taking over as Sprint Corp.'s chief financial officer, Michel Combes is taking a trip to the junk-bond market.
The move is a throwback to an earlier era for the cash-strapped carrier and a sign that parent SoftBank Group Corp. has no immediate plans to provide funding.
The smallest of the four leading U.S. wireless carriers sold $1.5 billion of unsecured junk bonds due in 2026, which can't be bought back even if interest rates rise. It was Sprint's first sale in the high-yield market in three years, putting pressure on the carrier's existing bonds, which were among the worst performers in the Bloomberg Barclays High Yield Index on Tuesday.
Combes replaced Tarek Robbiati, who helped cut about $6 billion in costs and lent creativity to Sprint's financing repertoire by using assets like airwave licenses as collateral for loans. The infusion of cash helped ease pressure as Chief Executive Marcelo Claure led what he vowed would be the "greatest turnaround in history." And while there have been improvements in areas like subscriber gains, Sprint has booked an entire decade of losses.
A representative for Sprint didn't respond to a request for comment.

"Sprint's been turning around for so long it's more of a spin-around given how many times they have been through this. And there's no end in sight," said Roger Entner, an analyst with Recon Analytics LLC.
Lagging Rivals
Sprint's path hasn't gotten any easier. 
Merger talks with T-Mobile US Inc. led by SoftBank Chairman Masayoshi Son collapsed late last year, leaving Sprint to face a very competitive wireless market on its own. After cutting network spending for two years, Sprint is lagging behind its rivals on service quality in most areas of the country. The company is boosting spending about 50 percent to as much as $6 billion in fiscal 2018 to not only catch up on 4G service but to build a fifth-generation or 5G network.
"It looks like they are going to stick to their capital-spending commitments," said Amy Yong, an analyst with Macquarie Capital USA Inc. "I think it shows two things: Masa must have confidence in their financial profile, and Masa isn't going to give them a free lunch."
SoftBank Stake
SoftBank, which invested more than $22 billion in the acquisition of Sprint, has purchased additional shares to increase its ownership stake to about 84 percent. SoftBank has said it prefers to have Sprint shares trading in the public market and isn't interested in more than an 85 percent stake. The stock is down more than 40 percent in the past year.
For John McClain, a portfolio manager who helps oversee $21 billion of assets at Diamond Hill Investment Group, Sprint is not a materially different credit now than it was when the turnaround effort began. It's still too small to compete with the industry titans AT&T Inc. and Verizon Communications Inc., he said.
"We put it in the 'too hard' pile -- too hard to figure out what will happen here. Do they merge with someone? Probably," McClain said.
Sprint faces about $9 billion in debt maturities over the next two years and plans to use another batch of its airwave licenses to raise more money, Combes said on a Jan. 2 earnings call. The company is rated B2 by Moody's Investors Service, the fifth-highest junk grade, and an equivalent B by S&P Global Ratings.
"Returning to the high-yield bond market is a strong sign and also positive in that it's a more balanced approach to the market," said Mark Stodden, a Moody's analyst.
Sprint ended up boosting the size of its offering Tuesday by $500 million to meet demand and price at the low end of talk. The sale drew orders of around $3.75 billion, according to a person with knowledge of the matter, who asked not to be identified as the details are private.
To meet debt payments and compete against the other carriers on the quality of the service, Sprint will have to build up a lot of cash now. "They can't be caught in a situation where they rely on the market," Stodden said.
Borrowing money to buy time has gotten Sprint close to a potential M&A solution with T-Mobile but in the wake of that failure, the focus turns more toward fixing the business.
"The company has been OK in some areas like adding customers, but on the bond side we have been focused on the lack of free cash flow," said Dave Novosel a debt analyst with Gimme Credit. "At some point, you are going to need to generate cash or you end up going back to the debt market again. If that keeps up, I wouldn't be surprised if the market closes up on them at some point."
Still, having a deep-pocketed owner does help relieve some of the anxieties about worst-case scenarios.
"SoftBank won't walk away from the billions it has invested," Recon's Entner said.
— With assistance by Rob Golum, and Gowri Gurumurthy
Before it's here, it's on the Bloomberg Terminal.
LEARN MORE