Greeks Feel the Pain of Being Normal Again
The government wants to exit its bailout program after eight years, but the country's finances still look shaky.
By , , and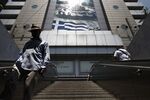 The prevalent belief in Europe is that the crisis is all but over in Greece: the economy is growing, the country just raised money from bond investors, and the government that went to the brink three years ago is telling the euro region it doesn't need any more financial aid.  
Yet for all the alluring signals, there's the enduring pain of repairing the nation's finances after an economic meltdown never seen before in peacetime.
Despite a review this week that showed Greece had complied with all except two of the requirements of its bailout package, some officials in Athens and Brussels are warning it may be too soon for it to leave the intensive care of a European rescue program.
The economy has recovered only a fraction of what it lost. One in five people can't find a job, the vast majority for at least a year. Others with top qualifications left in droves. More than half of adults owe back taxes, the uncollected total exceeding 100 billion euros ($123 billion) at the end of last year, equal to 56 percent of the entire economy.

Businesses are under pressure because the four most important banks have been constrained by capital controls and are saddled with close to 100 billion euros of bad loans. Stress tests are due in coming months that will determine whether they will need more money. In the meantime, they're trying to raise cash by auctioning foreclosed real estate. 
"The situation has indeed normalized and there is some level of stability, but there are too many pending issues," said Dimitris Bokas, owner of Plagton SA, a business rearing sea bream and sea bass for export.
Access to money is harder and the tax burden is 58 percent of his company's profit, he said. "Since the imposition of capital controls it's been even more difficult to finance our activities from banks," said Bokas.
Prime Minister Alexis Tsipras said he's determined Greece will exit its rescue program when the current bailout package -- the nation's third in eight years -- ends in August. 
The latest review by the EU, dated Feb. 17 and discussed at a meeting of euro region finance ministers on Monday, showed Greece had taken 108 of 110 required actions to receive the next installment of aid. 
Questions still remain over the auctions of foreclosed property and the sale of the old Athens airport site, a millstone throughout Greece's attempt at rehabilitation. Successive governments so far raised about a tenth of the 50 billion-euro target for privatizations set in 2011.   
The plan is now to create a cash buffer of about 20 billion euros, tapping bond markets and the European Stability Mechanism bailout funds. The country sold 3 billion euros of seven-year bonds this month at a yield of 3.5 percent compared with double digits in 2015 when Tsipras confronted the euro region over Greece's debt before capitulating.

The problem, say the doubters, is that Greece would be at the mercy of the markets again, trying to stand on its own feet and regain financial sovereignty with so many lingering problems. Bank of Greece Governor Yannis Stournaras, a finance minister in the previous government, has said a precautionary credit line is needed.
"The question now is how to make this sustainable," said Wolfango Piccoli, co-president of consultants Teneo Intelligence in London. "Things can change and then we can find a situation that becomes difficult very quickly."
Few Greeks expect to go back to the easier days before the country blew up in 2010. But many people say what's become normal for them can't last after the economy shrank by 20 percent. It's recouped less than 2 percent.
Lefteris Emmanoulides used to own a candy store before turning it into a cleaning-products business in 2013 when Greece's economy was only half way through a six-year recession.
"Today my monthly turnover is the same as what I had per day a few years ago," he said. "At the same time, banks are not in a position to lend money and when they do, it is for small amounts. And they ask for very high collateral."
He also complained about having to pay tax in advance. In addition there are property taxes and a "solidarity tax." At the same time, the government was behind on 3.3 billion euros of payments to suppliers as of the end of 2017.

The debt-ridden state has committed to maintaining a budget surplus before interest payments of 3.5 percent of gross domestic product until 2022. Most of it will come from taxation.
EU officials are talking about establishing a surveillance mechanism to monitor progress and spending even if Greece leaves the bailout program before elections next year.
Politically, the Greek Parliament is starting an investigation into former senior government officials in a bribery case involving Swiss drugmaker Novartis AG. Opposition parties call it a witch hunt. 
For Yiannis Galanos, 83, a pensioner in Lamia, central Greece, the struggle will go on. His pension used to be 620 euros a month, though he now gets 470 euros because of cuts to subsidies for people on low income. He and his wife survive with her retirement pot, currently 680 euros per month.
"I was working for 40 years, half of them in hazardous occupations," said Galanos. "In spite of living in a mountain area, this year I wasn't eligible for the heating oil allowance."
— With assistance by Marcus Bensasson, and Nikos Chrysoloras
Before it's here, it's on the Bloomberg Terminal.
LEARN MORE