politics
Corbyn Vows to Stop Hostile Bids and Humble the City of London
By
Labour leader vows to make finance the 'servant of industry'

In speech to manufacturers he cites Melrose and GKN as example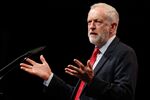 Jeremy Corbyn pledged that a Labour government would make it harder for asset strippers to take over U.K. companies while vowing to make finance the "servants of industry not the masters of us all."
While his full-throttle attacks on bankers have been become familiar to the City of London, his prescription for blocking hostile takeovers is specific and likely to rattle the world of business.

In a speech to the EEF manufacturers' organisation, he will evoke the case of Melrose Industries Plc's bid for GKN Plc as an example where action to fend off the turnaround specialist is justified. If elected, Corbyn would broaden the scope of the "public interest test" to allow the government to act.
"Take GKN, one of the world's oldest and most prestigious engineering firms, which employs 6,000 workers across the U.K.," Corbyn will say on Tuesday. "And yet GKN is currently facing a hostile, allegedly debt-fuelled takeover bid by Melrose, a company with a history of opportunistic asset-stripping."
"It's an all too familiar story, like when Kraft took over Cadburys," Corbyn will tell an audience of manufacturers at their annual conference in London. "A valuable company could be sacrificed so that a few can make a quick buck."
Before Britain's election last year, the idea that Labour was the government-in-waiting seemed far fetched but the party unexpectedly gained seats in the vote, depriving Prime Minister Theresa May of her majority as she attempts to negotiate Britain's exit from the European Union.
Read our BusinessWeek story of how business is dealing with Corbyn
But now the prospect of Corbyn in power with a radical plan to humble the City of London is being taken seriously. In December, Corbyn lashed out at Morgan Stanley after one of its analysts warned that a Labour government should be a bigger concern to investors than Brexit.
His latest language will do little to ease those worries: "We need a fundamental rethink of whom finance should serve and how it should be regulated."
"For a generation, instead of finance serving industry, politicians have served finance," Corbyn will say in excerpts released by his office. "No more."
Before it's here, it's on the Bloomberg Terminal.
LEARN MORE