Spain Secures ECB for Guindos After Long Campaign to Regain Seat
By and
Eurogroup picks Spanish economy minister as ECB vice president

Guindos set to replace Portugal's Constancio in June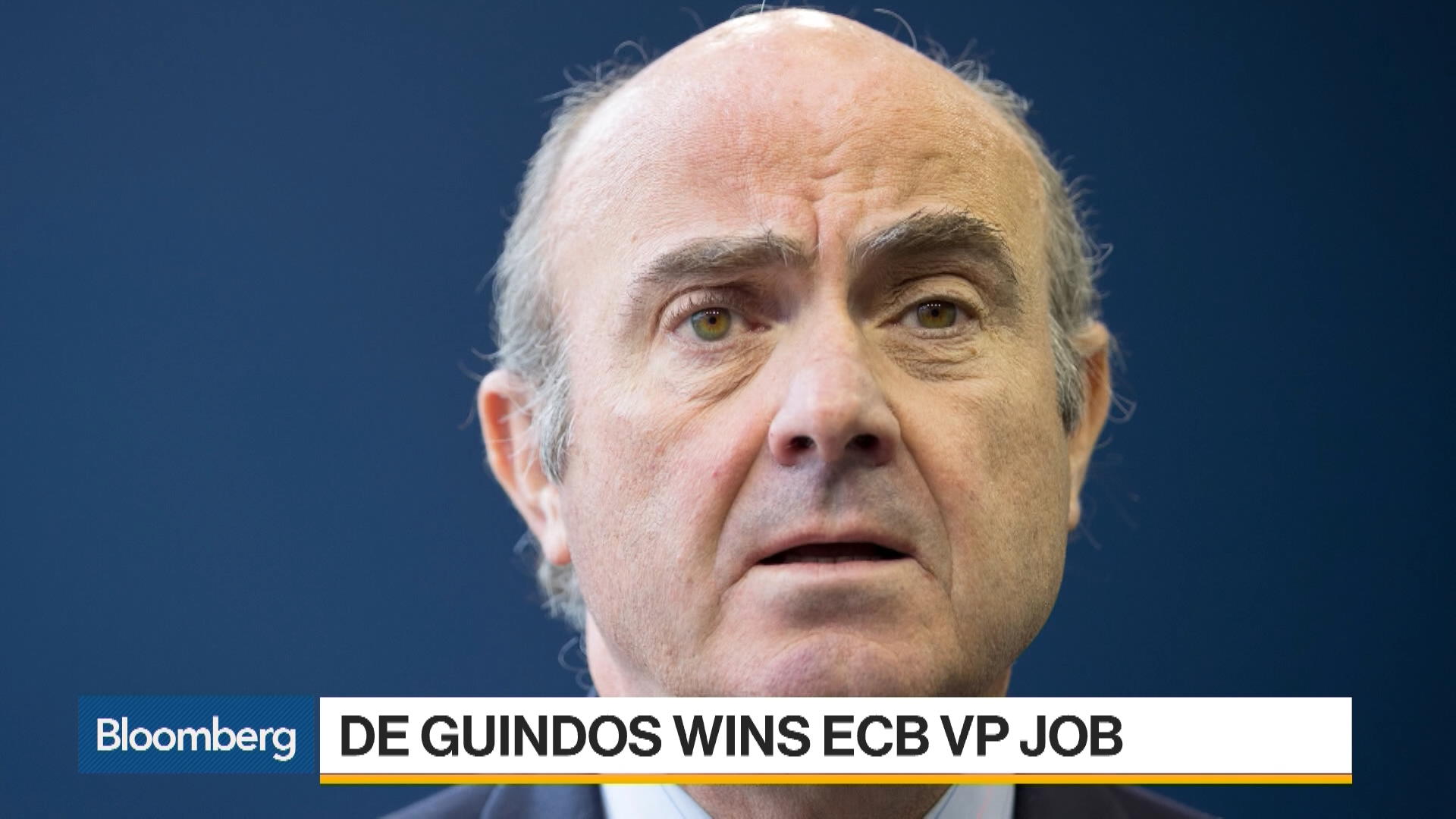 After leading Spain's fight to reclaim its voice at the European Central Bank, it's finally mission accomplished for Luis de Guindos.
The 58-year old economy minister, who's held prominent positions in banking and government, won the backing of euro-area finance ministers late Monday to replace ECB Vice President Vitor Constancio. Ireland withdrew the only other candidate, central-bank governor Philip Lane, at the start of the meeting.

The decision puts Spain back on the Executive Board after a six-year absence, a situation it long complained was unfair. It's a feather in the cap for Prime Minister Mariano Rajoy, who campaigned to regain the seat and who has come through a torrid time politically over the crisis in Catalonia.
Guindos's nomination, which has yet to be put to the non-binding scrutiny of the European parliament and ratified by heads of states, is kicking off an ECB board shake-up that will culminate in late 2019 when the terms of President Mario Draghi and his markets chief Benoit Coeure expire.
The new appointments come at a crucial time for the central bank as it prepares to unwind unprecedented monetary stimulus after a decade of crisis-fighting and controversial decisions that pushed it into unprecedented territory.
That means investors and market participants will be alert to any shifts in balance on the six-member Executive Board, which proposes policy to the decision-making Governing Council.
Read more on changes at the ECB's highest level
So far, officials have urged caution against rushing an end of asset purchases and prematurely raising record-low interest rates, arguing that the region's solid economic upswing has yet to be reflected in a sustained pickup in inflation.
Some economists reckon Guindos may side with the more optimistic governors on the council, who have long been pushing for an end to quantitative easing, while at the same time being mostly consensus-oriented. 
His lack of central-bank experience, however, makes gauging his views difficult. In otherwise scarce comments on monetary policy, he said recently that QE is a temporary tool just like negative rates, and argued policy normalization is one of the biggest challenges facing Spain.
"Guindos is perceived to be a tick more on the hawkish side because of the austerity measures he implemented," said Carsten Brzeski, chief economist at ING-Diba in Frankfurt. Coming directly from a ministry position, initially "he'll probably hold back from monetary-policy discussions in order to not give the impression that he's damaging the ECB's independence."
For a timeline charting the ECB's exit strategy, click here
Pitching for the vice presidency last week before European lawmakers, Guindos highlighted his experience in finance and bank restructuring. He argued that the resolution of Banco Popular Espanol last year while he was a minister was a success as no taxpayer funds were used and deposits were safeguarded in a crucial test of new European Union rules.
Prospects of such a senior politician joining the independent ECB have sparked concern among his future colleagues. Guindos's response was that he's never run in an election and isn't officially affiliated with Spain's conservative People's Party. He has been part of Rajoy's administration since 2011 and lobbied strongly to put the country back at the top table at the ECB.
After Ireland removed one of the final hurdles by withdrawing Lane's candidacy, German Finance Minister Peter Altmaier was one of the first among his peers to openly endorse Guindos.
In its embrace, Europe's largest economy is finally making good on a 2012 promise of Altmaier's predecessor Wolfgang Schaeuble, according to the Spaniard's memoirs: While Angela Merkel's government wouldn't back the country's candidate to replace outgoing Executive Board member Jose Manuel Gonzalez-Paramo, the next available vacancy would go to Spain.
Germany's Sabine Lautenschlaeger was appointed to the Executive Board in 2014.
— With assistance by Zoe Schneeweiss
Before it's here, it's on the Bloomberg Terminal.
LEARN MORE