Peru's Kuczynski Rejects Calls to Resign Amid Impeachment Threat
By
President says he'll defend himself in any impeachment effort

Opposition lawmakers say considering fresh impeachment motion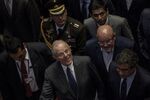 Peru's President Pedro Pablo Kuczynski rejected calls from opposition lawmakers for his resignation and said allegations he lied to Congress are groundless.
Kuczynski said his decision to pardon former President Alberto Fujimori is the real reason why leftist lawmakers are seeking a new motion to impeach him.
"I won't resign," he told business leaders at an event in Lima on Monday. "It's not a personal matter, it's an institutional matter. I was elected for five years and I'll complete the five years."
Kuczynski may face a new impeachment motion when Congress returns from recess next month after he narrowly survived a Dec. 21 vote amid allegations he lied to Congress. Opposition lawmakers say there is fresh evidence the president lied about an alleged conflict of interest more than a decade ago when the ministerial cabinet he led awarded contracts to Odebrecht SA. He denies the allegations and on Monday accused the media of putting pressure on him to resign.
"I'm going to defend myself fiercely against the editorials, against all those who write and say I must resign. It's crazy. It's crazy," Kuczynski said. "A country that's doing well, that's making progress, and we're going to throw away the Constitution."
Read more How to Impeach a President, Peruvian Edition, Part II: QuickTake
Leftist party Nuevo Peru said last week it is discussing with other groups the text of a new impeachment motion. Popular Force, a right-wing opposition party that's the biggest in Congress, has said the president should be forced out if he doesn't quit first, though it hasn't decided whether to support the leftists' proposal.
Ten lawmakers from Popular Force defected from the party this month and pledged support for Kuczynski. The group were joined on Monday by an eleventh lawmaker, Lucio Avila, leaving Popular Force with 60 of the 130 seats in Congress.
Mercedes Araoz, who's cabinet chief and second vice president, said she and first vice president Martin Vizcarra would resign should Congress impeach the president, Peru21 newspaper reported. Popular Force lawmakers have said Vizcarra would have their support should he take over the presidency.
Before it's here, it's on the Bloomberg Terminal.
LEARN MORE