New Greek Loans Prove Elusive as Talks Near on Post-Bailout Life
By , , and
Government still has to implement measures to get next tranche

Creditor discussions look at debt mechanism, post-bailout life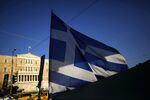 Greece is not expected to get its next slice of financial aid just yet, as a couple of key reforms linked to the bailout loans remain outstanding, according to a report obtained by Bloomberg. The delay comes as the debt-ridden state seeks to convince investors and creditors it will soon be able to finance itself in markets without external help.
The final audit of the country's up-to 86-billion-euro ($107 billion) bailout is set to start later in February, less than six month before the program runs out in August. While Athens still has to complete two outstanding reforms before it receives the fresh loans, officials hope Greece will get the money within coming weeks, as talks are now centering on what arrangement the country should get after the the end of its eight-year financial supervision.
The two issues holding back Greece's next slice of aid worth 5.7 billion euros have to do with a court decision to allow the privatization of an old airport to move ahead and progress on auctions of foreclosed property, according to the report. EU and Greek officials hope the overhauls will be resolved ahead of the next bailout audit set to start on Feb. 26.
An EU official said the new loans may not be made available until mid-March, partly due to the scheduling constraints of a German parliamentary committee that has to green light the disbursement.
They key question that looms, however, is whether Greece would be able to fully stand on its own feet once its bailout runs out, especially if the current global economic upswing weakens. A delay in the country's latest bond sale due to sharp trading volatility and the recent spike in Greece's 10-year bond yields, highlight the country's vulnerability to external market conditions, EU officials say, raising questions about how it will fare without any external assistance.
Greece's government aims to reach an agreement with its creditors on some kind of post-surveillance regime based on the model of Portugal or Cyprus, which will contain frequent reviews but no policy conditionality, said a Greek government official familiar with the talks, speaking of condition of anonymity.
Debt Relief
Concern among creditors also stems from the fact that the end of the cash-for-reforms regime could chip away at Greece's reform momentum -- especially ahead of elections in 2019. In order to prevent Athens from reversing agreed reforms and boost spending to lure voters, creditors hope to establish an enhanced surveillance mechanism, whereby Greece's progress with outstanding overhauls and fiscal discipline will be closely monitored. 
"Privatizations need to continue, as do reforms of the public administration," said Klaus Regling, Managing Director of the euro area's crisis-fighting fund. "It would be a shame if the progress made so far were to soften at the end of the program," Regling said in a Feb. 15 interview with German newspaper Augsburger Allgemeine.
As fresh loans will no longer be available as leverage for Athens to stick to its commitments, the creditors are looking at ways to use some promised debt relief as a reward for Greece if it stays on track.
Talks among Greece's creditors and euro-area countries have already started on a technical level, including on a proposal that would link debt repayments to economic growth, so that the country can pay back more if it is doing well, and less if it isn't. The aim is to have a consensus on the framework of the further debt relief measures by the time euro-area finance ministers meet in March, with the final deal sealed later in the year.
Still, disagreements on aspects persist among Greece's creditors, including on the extent to which debt relief should be conditional on more reforms, and on whether part of it should be granted to Athens upfront.
At a meeting of euro-area finance ministry deputies on Feb. 8, a group of countries including Germany and Finland questioned the need for upfront measures to ease Greece's repayment terms, while France, Portugal and the institutions overseeing the bailout suggested some debt relief should be granted at the end of the program, an EU official said, highlighting the possible points of contention countries are likely to have as they near a deal on debt.
Greek Banks
Even if an enhanced surveillance arrangement gathers the most support, EU officials caution that the day-after regime for Greece can only be finalized after the results of upcoming stress tests, which will determine whether the country needs to use further funds for its banks. Still, even if these don't show major capital needs, it may be a while before the banking sector, which is saddled by 99 billion euros in soured loans, can support the economic recovery.
Stress tests' results are expected in early May and most probably will determine what the International Monetary Fund will do with its participation to the Greek program. The fund suggested last summer that a capital injection of 10 billion euros to Greek lenders is needed, but this was ruled out by the Greek authorities and the European Central Bank.
Some analysts, however, believe that Greek banks will eventually need fresh capital. "We see a significant risk of a recapitalization and the potential for other solutions to problem loans in Greek banks, such as a bad bank and potentially further consolidation," Bank of America Merrill Lynch said in a note on Friday.
Quotes from this Article
Before it's here, it's on the Bloomberg Terminal.
LEARN MORE