Photographer: Ore Huiying/Bloomberg
politics
U.S.-Led Group Mulls Asia Infrastructure Effort Amid China Push
By , , and
Australia's Bishop says countries discussing 'range' of moves

Turnbull may discuss plan with Trump in Washington, AFR says
Australia, India, Japan and the U.S. are discussing a joint infrastructure plan, Australian Foreign Minister Julie Bishop said, as China's own building initiative deepens its economic clout across Asia.
Senior officials from the four Group of 20 nations have discussed "a range of opportunities and challenges," Bishop told Sky News in an interview that aired Monday ahead of Prime Minister Malcolm Turnbull's White House visit later this week. "There is an enormous need for infrastructure, particularly in our region," she said.
The talks suggest a possible new economic front in efforts to counter China's rising influence in the Asia-Pacific region. While President Donald Trump withdrew the U.S. from a massive trade regional pact including Australia and Japan last year, the National Security Strategy he released in December called for policies to answer Chinese and Russian infrastructure-building efforts.
Chief among those is Chinese President Xi Jinping's Belt and Road Initiative, a global plan to build or expand highways, railways, ports, pipelines and power plants that Morgan Stanley forecasts could grow as large as $1.3 trillion over the next decade. Australia, India, Japan and the U.S., which have also discussed a regional security partnership known as the Quad, have yet to join China's plan.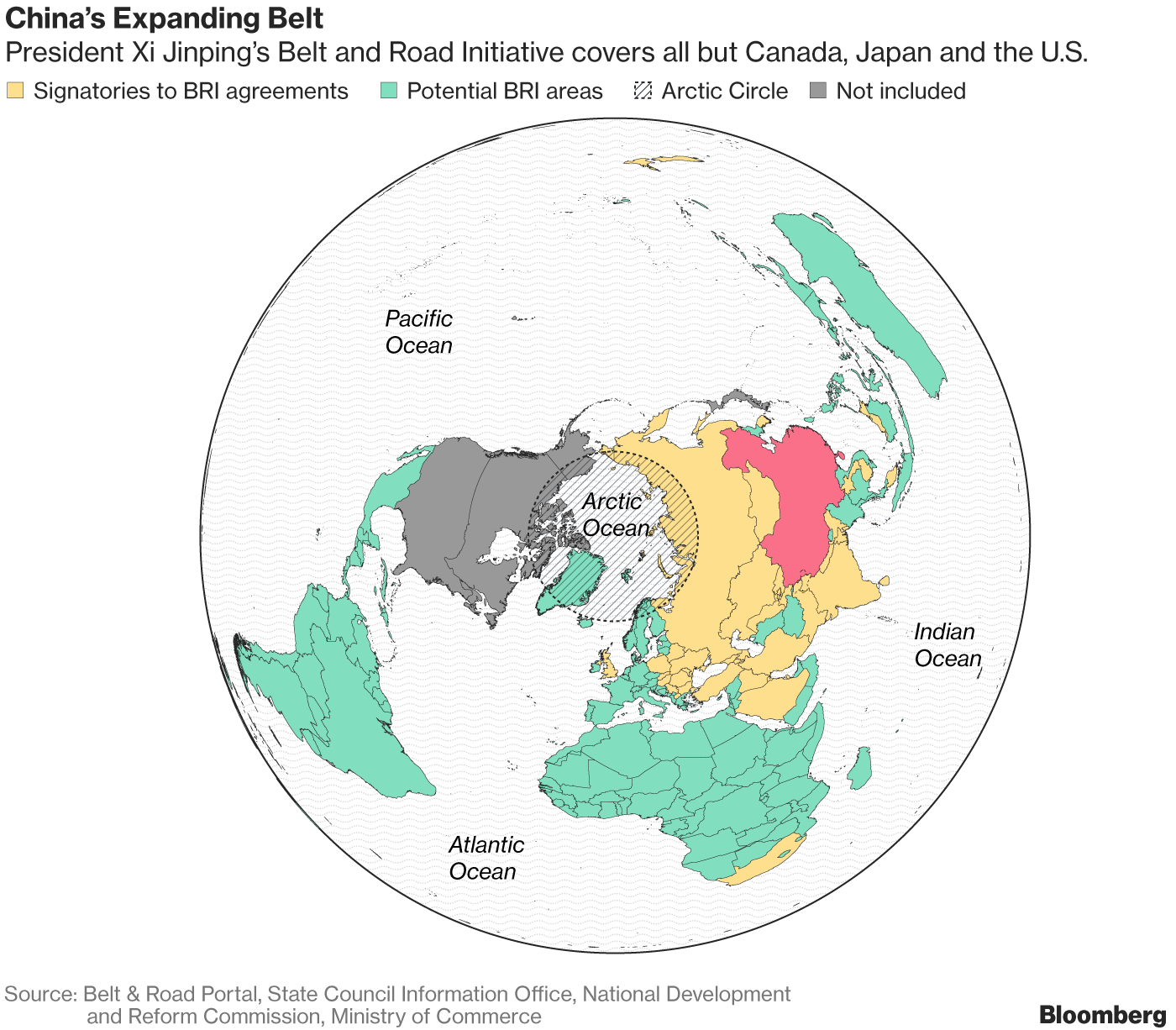 Bishop played down any rivalry with China, telling Sky News that any new "infrastructure initiative need not be at the expense of any other initiative." Last month, China lodged a formal protest with Australia after Turnbull's minister for international development, Concetta Fierravanti-Wells, said the Belt and Road plan risked building "useless buildings" and "roads to nowhere."
"Framing the Quad in economic and infrastructure terms instead of as a security relationship is something new and makes a lot of sense because it may make it appear less confrontational toward China," said Bates Gill, a professor in security studies at Macquarie University in Sydney. "It remains to be seen whether the Trump administration is prepared to do the diplomatic heavy lifting that would be necessary for such a partnership to work."
Turnbull was expected to discuss the idea in talks with Trump, the Australian Financial Review reported Monday, citing a senior U.S. official it didn't identify. The plan was nascent and no announcement was imminent, the newspaper cited the official as saying.
'Strategic Competition'
"Between the four countries, we are exchanging opinions about mutual interests on various occasions, including the Japan-U.S. and the Japan-U.S.-India, Japan-Australia-India trilateral frameworks," Japanese Chief Cabinet Secretary Yoshihide Suga told reporters Monday in Tokyo. "I would like to refrain from discussing details of specific discussion topics. Anyway, it's not the case that this is in opposition to China's One Belt, One Road plan."
Before visiting China in November, Trump signed two deals with Japan, pledging cooperation on infrastructure projects in the region.
Infrastructure cooperation with the three Asia-Pacific nations would dovetail with the Trump's administration evolving national security policies, which have cast the U.S. as in "long-term, strategic competition" with China and Russia. U.S. officials have begun referring the region as the "Indo-Pacific," reflecting their desire of the U.S. for India, the region's third-largest economy, to play a bigger role in its security matters.
An Indian foreign ministry spokesman didn't respond to a call and text for comment Monday. 
Indian Prime Minister Narendra Modi is already investing in road and rail links on its northeastern frontier -- near Bangladesh, Bhutan, China, Myanmar and Nepal -- under his "Act East" policy. Modi's government has objected to China's decision to fund infrastructure projects in Pakistan-administered Kashmir that pass through territory claimed by India.
"China has tapped into a deep-seated desire for infrastructure in the region and in large parts of the world," said Harsh Pant, an international relations professor at King's College London. "If you want to challenge China, you have to challenge China on BRI, or have an alternative to BRI. It's a natural step, if the Quad wants to articulate a different vision."
— With assistance by Isabel Reynolds
Before it's here, it's on the Bloomberg Terminal.
LEARN MORE