politics
Hungary's Orban Warns of Europe's Demise in Re-Election Bid
By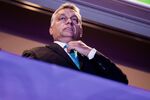 Hungary's Prime Minister Viktor Orban said he's ready to step up his fight against the European Union's refugee policy, warning that it poses a threat to the nation's identity and could lead to an "Islamic takeover" of the continent.
In his annual state of the nation address, held ahead of April's national elections, Orban said his government was ready to deploy legislative and diplomatic measures to defend Hungary's culture, which is now increasingly under threat from western Europe and the EU, rather than illegal border crossings. A bill submitted to parliament that would tax foreign funding for non-governmental organizations helping refugees was part of the cabinet's efforts, he said on Sunday in Budapest.
The law has been scolded by civil society groups, the EU, and the German government, adding to a series of clashes between the populist leader and the country's western peers. Even as critics accuse Orban of openly xenophobic rhetoric, officials in Brussels have spared him of any sanctions and his party still remains affiliated with the biggest center-right group in the European Parliament.
In typical fashion, the firebrand premier didn't hold any punches against "politicians in Brussels, Berlin and Paris, who want us to conduct the same policies that made their countries immigrant nations and have opened the way to the demise of Christian culture and the spreading of Islam." He added that "if things continue as they are, our culture, our identity and our nations will cease to exist in the form that we know them now."
The address touched upon familiar campaign messages, including his government's economic success, the opposition's fragmentation and the demise of western societies, that have resonated well with his supporters, helping his Fidesz party gain a wide lead all election polls. Orban, whose efforts to build an illiberal democracy have sparked criticism for eroding the rule of law, is seeking a third-consecutive term as premier in the poll to be held April 8.
Before it's here, it's on the Bloomberg Terminal.
LEARN MORE