politics
Turnbull, Joyce Meet in Sydney Amid Fallout Over Sex Scandal
By and
Leaders agreed they need to work together, ABC, Sky report

Strained relations threatened to destabilize ruling coalition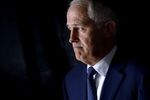 Australia's two most senior lawmakers met on Saturday in a bid to avoid fracturing the nation's coalition government amid the fallout from Deputy Prime Minister Barnaby Joyce's extramarital affair with a former staffer.
Prime Minister Malcolm Turnbull met with Joyce for more than an hour in Sydney and agreed they need to work better together in the future, according to ABC and Sky News. Turnbull's office didn't immediately respond to a request for comment.
Turnbull lambasted Joyce on Thursday over the affair that ended his 24-year marriage and accused him of making a "shocking error of judgment." Joyce, 50, who leads the junior party in the coalition, hit back Friday saying the criticism was "inept" and "unnecessary."
Turnbull's predecessor, former Prime Minister Tony Abbott, said earlier on Saturday that if politicians wanted to give each other advice, they should do so by knocking on their door and picking up the phone to talk directly.
"As a general rule one party doesn't give another party public advice," the ABC quoted Abbott as saying.
The war of words between the pair risked undermining the Liberal-National coalition, which already trails in opinion polls ahead of elections due by next year. While Turnbull's Liberals are the dominant force in the partnership, the party relies on support from Joyce's rural-based Nationals to govern.
"This breakdown in the relationship puts Australia in uncharted waters -- it's not just about these two men but the fates of their parties," said Martin Drum, a senior political lecturer at Notre Dame University in Perth. A breakdown in the coalition agreement and the government was "very unlikely" but couldn't be ruled out, he said. "At the least, this public fighting has completely derailed any momentum Turnbull was looking for."
The saga has played out on the front pages of Australia's newspapers for days, with Joyce confirming that his now partner Vikki Campion is pregnant with his child. The revelations have damaged father-of-four Joyce's credibility as a family man and he's also facing claims he allowed Campion to work in his and another ministerial office during the affair -- potentially breaching the ministerial code of conduct.
Taking Leave
In a break with tradition, Turnbull on Thursday told parliament that Joyce wouldn't serve as acting prime minister when he visits Washington next week for talks with President Donald Trump and would instead be taking leave to consider his position.
He later heaped criticism on Joyce, saying the affair had caused "terrible hurt and humiliation" to his family and new partner. The prime minister also announced an overhaul of the ministerial code and barred senior lawmakers from sexual relations with their staff.
Joyce returned fire on Friday, saying the comments had "caused further harm" and signaled he'd resist any attempts to force his resignation as Nationals leader. Only a vote of his own lawmakers could oust Joyce and none of them have publicly asked for his resignation.
"There is nothing that we dislike more than implied intervention into the party processes of the National Party," Joyce said Friday. "We are an independent unit and make our own decisions."
Bill Shorten, the main opposition Labor Party leader, said the public squabbling showed the government was in disarray and challenged Turnbull to fire his deputy. The deputy prime minister position is traditionally given to the Nationals leader under long-standing arrangements between the parties.
"This is an absolutely full-blown political crisis," Shorten said. "If the number two in the government says the number one in the government is inept, we've got a big problem."
Read more on the Barnaby Joyce scandal and Turnbull's reaction
The spat risks returning Australia to political turmoil that voters had hoped was behind them. The nation has churned through six prime ministers since 2007 amid infighting in both the Liberals and Labor.
"The Liberal-National relationship has been very close and very successful, because it's enabled conservative factions to form governments," Notre Dame University's Drum said. "It's more likely than not that Joyce will eventually have to resign because his moral authority looks gone. But the damage done to Turnbull's government from this issue could be irreversible."
Before it's here, it's on the Bloomberg Terminal.
LEARN MORE