Watches
These Watches Are the Pinnacle of Craft for the Sake of Craft
The first-ever Vacheron Constantin Les Cabinotiers Exhibition is a must-see collection.
By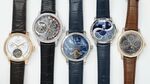 Originally published by Justin Hast on Hodinkee. 
If you're looking to gently make your way into the big boy leagues, and picking up that hot new release from the catalog down at your local AD isn't going to cut it, it's time to head over to Vacheron Constantin and the hallowed halls of Les Cabinotiers. 
This specialist department at Vacheron is a place into which few have had the privilege of stepping foot. You quite literally sit down with a blank sheet of paper and create every detail of that watch you've always wanted (that watch you've spent way too much time talking to your partner about over the years—you know the one that makes him or her nod and smile, as they try to continue faking interest).   
Historically, the Cabinotiers watchmakers worked in the attics of ateliers, and crafted one-of-a-kind watches commissioned by collectors and high-profile client. No doubt you will remember that mind blowing horological masterpiece the Celestia Astronomical Grand Complication 3600, a product of the program. Even if you're not ready to commission a unique complication for yourself, however, I've still got good news. If you're in London between Feb. 14 and Mar. 10, you will have the opportunity to see 11 unique pieces created by the department, but not at the specific requests of clients.  This is about as rare a horological experience as exists today.

This will be the first time the department has ever showcased a collection of pieces currently unattached to owners. The collection will begin at the new Vacheron Constantin boutique at Harrods (which opened its doors in December) on Feb. 14 and stay until Mar. 2 before making its way across down to the Vacheron boutique on Old Bond Street, where it will reside Mar. 5–10. The exhibition is open to the public, though you do need to call ahead and make an appointment. You can contact the Harrods boutique here and the Old Bond Street boutique here.
I was lucky enough to get an early peek at the 11 watches and here are five of my favorites.
Reference 80172/000R-B420

First up is this 18k pink gold perpetual calendar with both minute repeater and tourbillon. You'll also notice the calendar functions have Chinese indicators. The 55-hour power reserve is indicated on the reverse, on the right hand flank of the 2755 QP caliber. Many (including myself until recently) aren't aware of the fact that the sound of every minute repeater made by Vacheron is recorded for servicing accuracy down the line. What struck me most though was the silvered opaline dial and how delicately the indications sit on it. The pictures here don't do it justice.


Reference 9806C/000G-B370

The Ref. 9806C/000G-B370 may not be your every day beater watch—but my god how good would it feel like strapping it on before a night out at the pub anyway. Inside the 18k white gold case is a two-axis armillary tourbillon with instantaneous retrograde hours (minutes with small seconds at nine o'clock on the tourbillon carriage). The caliber 1990 boasts no fewer than six patents, with progress around the instantaneous hours/minutes retrograde, the newly designed balance wheel, the escapement plate, and the springs that hold the diamond stones all protected. Despite the innovation, the highlight was seeing the tourbillon cage stop every 15 seconds, allowing you to appreciate the Maltese cross in all its glory. It's truly sublime. 


Reference 6500C/000G-B186

This guy is all about simplicity and artistry. The dial and case are both solid 18k white gold, but the former has a generous treatment of Grand Feu enamel. The translucent and grisaille enamels create an enchanting twilight scene with ethereal clouds seeming to float above the surface. What more is there to say—just look at this watch. It's almost so impressive that you forget there's a serious tourbillon beating at six o'clock.


Reference 43639/000R-B014

First looking at this watch, you'll notice something unusual—the case is shaped like a hexadecagon. In fact, this rarely-seen shape was inspired by a heritage piece from Vacheron Constantin's archives, so it's not some new invention. The slate grey dial is beautifully finished with a sunray finish and painted white indications for the minutes, perpetual calendar counters, and moonphase and a brown indicators for the leap year. Oh, and you can rest easy knowing that the the 48-month cam on the calendar only requires adjustment every 400 years.



Reference 86073/000P-B255

And last, but by no means least, we've got the wonderfully elegant reference 86073/000P-B255. Incorporating a combination of decorative arts—guilloché, engraving, diamond-setting, and translucent enameling—it is truly an exhibition of what Vacheron's in-house artisans are capable of doing when all the stops are pulled out. The yin and yang dial is highlighted by the lucky number 8 diamond ribbon (with 111 brilliant cut diamonds) and indicators tucked into four windows at the "corners" of the dial.


For further information on Les Cabinotiers, visit Vacheron Constantin online. 
Hodinkee is the preeminent resource for modern and vintage wristwatch enthusiasts. Through in-depth reviews, live reports, and dynamic videos, Hodinkee is bringing watches to a 21st-century audience.
Before it's here, it's on the Bloomberg Terminal.
LEARN MORE