politics
The Real Brexit Battle Inside Theresa May's Cabinet
By and
Ministers disagree on how future rules should be enforced

Core team meets again on Thursday to seek united stance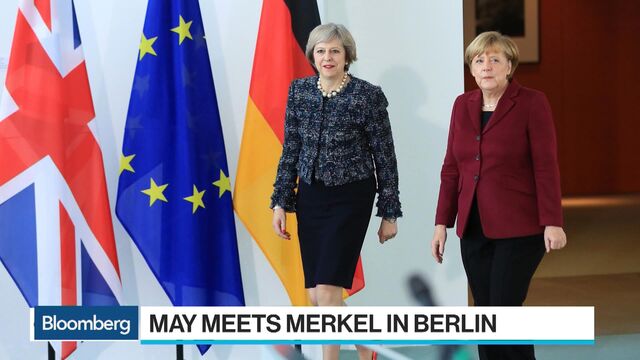 The battle within Prime Minister Theresa May's Cabinet over the shape of the Brexit trade deal they want to strike with the European Union is still raging -- but the front line has moved.
According to two senior U.K. officials, the warring sides of ardent Brexit campaigners and pro-Europeans within May's team are now fighting over how the new rules that will govern the future U.K.-EU relationship should be policed. It's a sensitive issue as repatriating powers from EU institutions and courts was a key plank of the referendum campaign.
The other big stumbling block for May's ministers is how to reach a new customs deal with the EU that allows the U.K. to keep its open land border with Ireland. Hardline Brexit-backers in the government fear the Irish border riddle -- and concerns about a possible return to the violence of the past -- could be used as a Trojan horse to keep Britain in the EU's customs union forever. That would thwart their ambition to do free-trade deals around the world.
Read more: Why Ireland's Border Is Brexit's Vexing Puzzle
The infighting means that 18 months after the referendum and with just over a year until Brexit day, the British government has yet to come up with a firm proposal for what kind of divorce it wants. Time is running out as negotiations on the future trade deal with the EU are due to begin next month.
Before Britain leaves in March 2019, the two sides must wrap up the withdrawal treaty, the terms of a grace period to cushion businesses, and as detailed an outline as possible of a future trade accord.
All May's most senior ministers now largely accept that the U.K.'s trade rules and standards should in many areas stay close to those of the European Union's customs union and single market, at least for a time after the country leaves the bloc.
But Brexit-campaigners like Foreign Secretary Boris Johnson, Environment Secretary Michael Gove, and Trade Secretary Liam Fox are determined to ensure the U.K. has as much freedom as possible -- and crucially must have a say over how regulations are enforced.
The key argument now is over how the new relationship between the U.K. and EU is patrolled. Some in the Cabinet would be prepared to accept a role for European institutions such as the European Court of Justice, as a price for better access to the single market. Without ECJ oversight, the EU says Britain can only aspire to a limited trade deal.
Brexit-backers say any role for the court -- which has become a symbol of lost sovereignty for euroskeptics -- or other EU regulators is unacceptable. They want a new panel to be established to resolve disputes between the U.K. and EU, made up of representatives from both sides, officials said.

Under May's blueprint, the U.K. will split away from EU rules immediately in some areas such as international trade, banking regulations and farm subsidies. British rules would remain closely linked with the EU in areas such as manufactured goods.
Johnson accepted that makers of washing machines, hair dryers or vacuum cleaners might benefit from staying close to EU rules, but insisted the U.K. must have the right to choose how this works -- and to walk away if the EU's rules change in future.
What Boris Johnson's Brexit Speech Tells Us About U.K. Politics
On the question of the Irish border, May says she is committed to keeping free flowing movement of goods and people between the Republic and Northern Ireland. Any hard border infrastructure could threaten the peace deal on the island of Ireland. 
Intense talks among May's most senior Brexit ministers last week failed to reach agreement on the kind of future trade deal Britain will have, with the Irish border question a key point of division, officials said.
May's Brexit Cabinet committee will meet again for an "away day" next Thursday in another attempt to finalize a plan. Two officials said ministers should be able to settle on an outline of the broad parameters of a trade pact by then but warned that it could still take longer.
Before it's here, it's on the Bloomberg Terminal.
LEARN MORE