politics
Trump Says 'So Many Signs' Florida School Shooter Was Disturbed
By
Nikolas Cruz, 19, had been expelled from high school

Trump says neighbors, friends 'must always report' incidents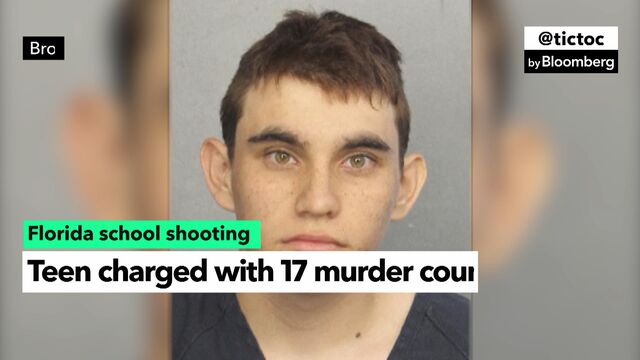 President Donald Trump said there were "so many signs" that alleged Florida school shooter Nikolas Cruz had mental health problems and that neighbors and classmates should have reported those signs to authorities.
"So many signs that the Florida shooter was mentally disturbed, even expelled from school for bad and erratic behavior. Neighbors and classmates knew he was a big problem. Must always report such instances to authorities, again and again!" Trump said in a Thursday Twitter posting.
Trump commented a day after he'd used Twitter to offer more sympathetic words in the case. "My prayers and condolences to the families of the victims of the terrible Florida shooting. No child, teacher or anyone else should ever feel unsafe in an American school," Trump said in that tweet.
Cruz, a 19-year-old orphan, was wearing a gas mask and carrying smoke grenades when he opened fire with a semi-automatic weapon and killed 17 people Wednesday at Marjorie Douglas Stoneman High School in Parkland, Florida, the Associated Press reported. Cruz was charged Thursday with 17 counts of premeditated murder. Another 14 people people were wounded in the rampage and have been hospitalized.
Cruz had been expelled from the school and had a checkered past, according to AP. Students at the school described him as a volatile teen whose behavior had alienated some former friends, though no immediate motive has surfaced.
Cruz's adoptive mother, Lynda Cruz, died of pneumonia in November, and his father passed away when he was much younger, the Sun-Sentinel reported. He recently moved in with a friend's family.
The incident was the most deadly school shooting in the U.S. since the December 2012 attack at Sandy Hook Elementary School in Newtown, Connecticut, in which 26 people -- 20 first-graders and six staff members -- were killed.

Connecticut Senator Richard Blumenthal, a Democrat, told CNN Thursday that Trump's tweet blamed the Cruz shooting "in a sense" on mental-health issues. Blumenthal called for tightening gun laws, including preventing people convicted of domestic-violence offenses from obtaining guns.
"Consistent with the Second Amendment, we can tighten the rules that apply to gun purchases," he said.
Senator Marco Rubio called Cruz "deeply disturbed," citing troubling social-media posts, the recent death of Lynda Cruz, past referrals to authorities and "things not made public" by authorities. The Florida Republican, appearing on Fox News after the attack, cautioned against rushing to conclusions that new laws would have prevented the shooting until the full details are known.
"When one individual decides in a premeditated and orchestrated way that they're going to carry something like this out it -- it can happen anywhere," he said. "This is an isolated instance, but a very tragic and catastrophic one, where you have one individual in a perfect storm of circumstances."
— With assistance by Kasia Klimasinska
(
Adds Rubio comments in last two paragraphs.
)
Before it's here, it's on the Bloomberg Terminal.
LEARN MORE