politics
Russia Blocks Critic's Site, Warns Google About Billionaire Yacht Videos
By
Watchdog orders Navalny site blocked on Deripaska's injunction

Material deleted from Instagram, communications regulator says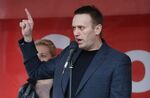 Russia ordered a ban on access to opposition leader Alexey Navalny's website and warned Alphabet Inc.'s YouTube to comply with demands to remove videos showing billionaire Oleg Deripaska on a yacht with a deputy prime minister and a woman described as an escort.
The Roskomnadzor communications watchdog said it's waiting for a "positive decision" from YouTube after Deripaska obtained an injunction requiring the removal of seven videos that he says breach his right to privacy. Instagram posts covered by the court order have been deleted, the regulator said in an email Thursday.
Internet service providers were told to block Navalny's website after he refused to take down an online film alleging that the videos and photographs posted by Anastasiya Vashukevich, who goes by the name Nastya Rybka, showed evidence of a corrupt relationship between Deripaska and deputy premier Sergey Prikhodko.
While the tycoon's seeking removal of specific posts, the legal action risked leading to a ban in Russia on access to YouTube and Facebook. Inc's Instagram because web pages with the information can't be isolated from the rest of their material. Navalny called the action against his investigation "a brazen act of censorship" and urged followers to "spread this video wherever you can." The anti-Kremlin campaigner has been banned from running against Vladimir Putin in March's presidential election.
'Unfounded Threats'
"It seems that Instagram gave in after unfounded threats from Roskomnadzor," Navalny said on Twitter. "Shame on Instagram!"
The regulator said the Instagram pages have been removed from its blacklist of banned information, while other online resources have also complied with the terms of the order obtained by Deripaska in his native Krasnodar region.
YouTube came in for criticism from the chief of the Russian Interior Ministry's antinarcotics unit, Andrey Khrapov, who said the service's administrators didn't do enough to prevent the advertising of illegal drugs, the Interfax news service reported Thursday.
Deripaska denied wrongdoing after Navalny published his video Feb. 8, calling it a "planned campaign" to damage his reputation. The injunction was granted Feb. 9. Navalny's allegations "should have been answered in a manly way, but we'll stay within the law," Prikhodko told the RBC newspaper the same day.
Before it's here, it's on the Bloomberg Terminal.
LEARN MORE