Peter Thiel Is Ditching San Francisco for Los Angeles
By and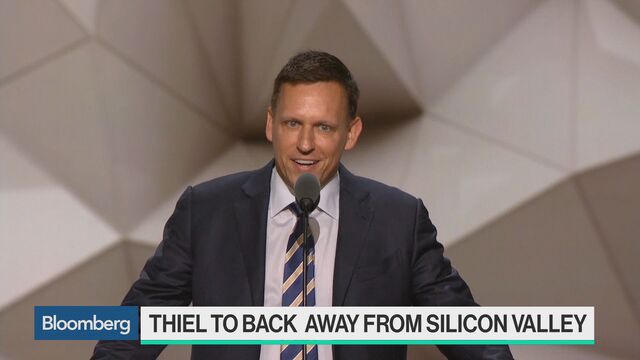 Peter Thiel is calling it quits in San Francisco.
The conservative billionaire will relocate his personal funds Thiel Capital and the Thiel Foundation to Los Angeles in the next few months, according to people familiar with the situation. Thiel's 50-person staff will also relocate, one of the people said. They asked not to be identified talking about private plans.
Thiel has also discussed resigning from Facebook Inc.'s board, according to the Wall Street Journal, which earlier reported his plans to relocate. The investor has no current plans to step down from the social media giant's board, according to people familiar with his plans. Facebook declined to comment.
The early Facebook investor and PayPal Holdings Inc. co-founder has used his personal wealth to back a range of projects, including the construction of offshore cities (seasteading) and persuading college students to drop out of school and unleash their inner entrepreneur. Thiel also co-founded venture firms Founders Fund and Mithril Capital, which will remain in San Francisco, a person familiar with the plans said.
Founders Fund Partner Brian Singerman said Thiel's role as general partner won't change and confirmed the venture fund will remain in San Francisco. All significant investments require approval from Thiel and other partners, according to a person familiar with the plans, and Thiel will visit Founders Fund regularly.
Worth $3.8 billion by Bloomberg estimates, Thiel has been criticized by many tech industry players in Silicon Valley for helping elect President Donald Trump, an unpopular figure there, and secretly financing a lawsuit against tech blog Gawker that resulted in its bankruptcy. He has publicly criticized the California tech hub for being intolerant of conservatives, insular and overpriced.
Thiel has been harsher in private, criticizing Silicon Valley as "mono-cultural" and "toxic" with a high cost of living and tendency for group think, according to people familiar with his thinking. Los Angeles, home to SpaceX and Snap Inc., offers a more varied ecosystem with diverse influences more likely to lead to innovation, one of the people said.
Thiel's newest and most-ambitious project is creating a conservative media empire -- an effort that will be easier to accomplish in L.A., according to that same person.
He owns a 7,000-square-foot property in the hills above the Sunset Strip, but he has yet to select an office location for his businesses, according to one of the people.
Before it's here, it's on the Bloomberg Terminal.
LEARN MORE