N.Y. Sportscaster Warner Wolf Sues Don Imus for Age Discrimination
By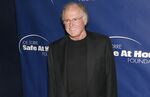 Long-time New York sportscaster Warner Wolf, known for his trademark phrase "let's go to the videotape," sued radio host Don Imus for age discrimination, saying he was improperly terminated in 2016 at the age of 78 and replaced with a decades-younger man.
Wolf began to appear on Imus' show as a contributor starting in December 1996 and continually appeared on the show until 2007 when its was canceled after the host made a racially discriminatory remark about Rutgers University women's basketball players. Wolf returned to show eight months later when broadcasts resumed.
Wolf said Imus frequently made inappropriate comments about Wolf's age, saying it was time to him "out to pasture" or "shoot him with an elephant dart gun," before suddenly terminating him after a dispute about an agreement to appear on the show remotely from his home in Florida. The suit says Imus and Cumulus Media Inc., which broadcasts the show, also refused to honor a severance clause in his contract. Cumulus, which wasn't named as a defendant in the suit, didn't immediately respond to a request for comment.
"As the videotape in this case will unquestionably show, defendants have failed to adhere to New York's anti-discrimination laws and have unlawfully discriminated against Mr. Wolf based upon his age," Wolf said in his complaint, filed Thursday in state court in Manhattan. "So in the words of the plaintiff, 'let's go to the videotape.'"
Before it's here, it's on the Bloomberg Terminal.
LEARN MORE