Economics
This Far-Right Italian Politician Is Relying on Social Media to Spread Her Message
Giorgia Meloni's party commands just 5 percent support in polls, but her Italy-first message is resonating with voters.
By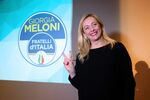 Far-right Italian politician Giorgia Meloni couldn't have picked a better target to raise her profile: the Egyptian Museum in Turin's two-for-one admission offer for Arabic speakers. Standing behind a "No Islamization" banner, Meloni took to Facebook Live on Feb. 9 to decry the discount as discriminatory to Italians. A subsequent video of the museum's director debating her outside the building became internet gold, and within days it made heavy rotation on national TV.
Meloni, 41, is the leader of the Brothers of Italy, a political party with fascist roots that is a junior partner in the center-right coalition assembled by media mogul and former Prime Minister Silvio Berlusconi to contest the March 4 national elections. A Bloomberg compilation of polls has the grouping at 36 percent as of Feb. 9—in the lead, but short of the 40 percent needed to form a government. And while support for Meloni's party hovers at 5 percent, the congresswoman's social media savvy could boost the coalition's chances of winning power.
Meloni may see her influence grow in coming weeks. If his coalition prevails, Berlusconi would only be a kingmaker, as he's banned from holding public office until next year because of a tax fraud conviction. Meloni says she wants the top job, but her chances of landing it are remote. "She would hold a cabinet position," says Roberto D'Alimonte, a political science professor at Rome's Luiss University.
Growing up in a Roman working-class neighborhood, Meloni got involved in far-right politics as a teenager, was elected to local office at 21, and entered Parliament at 29 as a member of the National Alliance, a descendant of the post-fascist Italian Social Movement. After a merger of parties, she got a taste of cabinet-level power by serving as youth minister under Berlusconi from 2008 to 2011.
The following year, Meloni co-founded Brothers of Italy, adopting the tricolor-flame logo of its far-right predecessors and its name from the first line of the Italian national anthem. Today she's campaigning on a populist platform that calls for increased social security payments, tax breaks for companies that produce and hire in Italy, and a reevaluation of European Union treaties that underpin the euro. She's against gay marriage and opposes granting citizenship to children born in Italy to immigrants.
To break through, she's turned to Facebook. In one recent live video from Milan she pointed to discarded syringes on the ground, denouncing heroin dealers "who for the most part are illegal immigrants." In another she visited a restaurateur who'd shot and killed a Romanian thief last year. (He faces a relatively minor charge of "excessive self-defense.") On Feb. 10, when Italians took to the streets in several cities to pronounce themselves against racism and neo-fascists, Meloni posted a video of a small group of protesters hitting a policeman who had fallen to the ground. Within a day, it had more than 700,000 views.
But it was Meloni's museum moment that hit a political sweet spot in a country simultaneously recovering from recession and facing waves of immigrants. By singling out Islam, she played to her far-right base. At the same time, her appeal for fair access to mummies seemed perfectly reasonable to many of the centrist voters she's trying to peel away from the anti-establishment Five Star Movement, which is polling at about 28 percent.
The challenge for Meloni is maintaining momentum, D'Alimonte says. "If this Egyptian Museum thing gave her some boost, she has to find something else to keep it up," the professor says. "Maybe she has to switch to the Vatican museums."
BOTTOM LINE -
Although her party commands just 5 percent support in polls, Meloni's Italy-first message is resonating with voters and could land her a cabinet post.
Before it's here, it's on the Bloomberg Terminal.
LEARN MORE