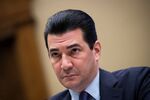 This was shaping up to be a bad week for Alzheimer's research, until the Food and Drug Administration intervened.
Merck & Co. Inc. on Tuesday announced it was discontinuing a prominent Alzheimer's drug trial. Biogen Inc. followed up on Wednesday with a worrying modification of a late-stage trial in the disease. 
But then the FDA shook things up Thursday by announcing it is considering approving Alzheimer's drugs before there is ironclad evidence of actual benefit and for patients that haven't shown symptoms. The proposal looks broader than previous guidelines outlined in 2013.
The FDA laudably wants to get treatments on the market for patients with a devastating disease and no options. But it needs to be extremely careful, or it could create false hope for millions of people. 
The FDA's accelerated approval pathway lets medicines hit the market after a drugmaker offers a reasonable amount of proof it could help patients using certain biological markers -- biomarkers for short -- as surrogate measures of success. In order to stay on the market, the drugmaker then has to run larger studies proving the medicine has a concrete benefit.
This approach has helped get some effective cancer drugs rapidly to market. But speed has consequences: A JAMA study published last year found confirmatory studies are very slow to arrive, are often flawed, and sometimes show a drug doesn't provide clinical benefit. 
The lesson there is that both cancer biomarkers and the accelerated approval process aren't perfect. But many cancer biomarkers have at least been validated by repeated clinical success. The issue with Alzheimer's is that we have no idea what constitutes reasonable proof of efficacy or a valid biomarker.
Another way of putting it is that scientists don't fully know how the disease works.  
There have been a lot of expensive and failed attempts to test various theories. The most popular hypothesis about the disease -- that removing amyloid plaques in the brain or preventing them from building up may work -- has been dealt blow after blow.
The FDA's proposal on Alzheimer's could conceivably lead to drugs being approved for patients that don't have outward signs of the disease, just evidence of a biomarker believed to predict it. That could expand the potentially enormous market for these drugs even further. 
But the risk is that the FDA approves drugs that may not work for a population that will desperately want them. It could be years before we can be sure of their effects. That raises ethical issues, not to mention financial consequences for patients, insurance companies and others paying for these drugs -- or the backlash some will face if they decide not to pay for them. 
A theory behind many Alzheimer's trials, especially those relying on the amyloid hypothesis, is that drugs need to be given to patients early, before symptoms emerge. The FDA seems to lend credence to that notion. But it is still just a theory. And the goalpost of how early drugs are needed seems to get moved with every failed trial. 
Now that the FDA has cracked this door open further, it will come under pressure to let someone walk through it. But the agency needs to set a high bar as to what constitutes a valid measure of success. 
If the FDA is just laying the groundwork for what might happen once Alzheimer's research advances, or if it's trying to make it easier to run trials on very early-stage patients, then that's fine. But if it's creating a path for a first Alzheimer's approval 1 without evidence of clinical benefit, then it's on much shakier ground. 
Before it's here, it's on the Bloomberg Terminal.
LEARN MORE