EPA Chief's First-Class Travel Prompted by 'Aggressive' Encounters, Official Says
By
Security chief for cabinet official explains first-class trips

Pruitt's environmental rollbacks have spurred angry encounters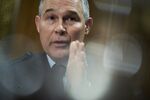 U.S. Environmental Protection Agency Administrator Scott Pruitt's much-criticized reliance on first-class flights to whisk him around the world is necessary to ensure his protection amid 'vulgar' encounters and threats from the public, EPA security officials said Thursday. 
The EPA chief has regularly sat in first- and business- class seats during his nearly one year leading the agency, generating a storm of controversy. Pruitt's pricey travel, according to travel records first reported by the Washington Post, included a $1,641.43 trip from Washington, D.C. to New York City last June and a round-trip ticket to Italy last summer that cost $7,003.52. 
"The agents have to make sure he's in a position where they can protect him," the director of EPA's Office of Criminal Enforcement, Henry Barnet, said in an interview. "If he's surrounded by other members of the public or it's a threat, their job is to push him and pull him away from those threats. That's why it is imperative to keep him away from the individuals so they can keep him safe."
The EPA's inspector general is auditing Pruitt's travel, examining the frequency, cost and extent of his trips.
Related: Polluters' Burden From EPA Penalties Is Lightened in Trump Era
Government officials are supposed to incur travel expenses "that a prudent person would exercise if traveling on personal business," according to the code of federal regulations. In practice, that generally means opting for the least-expensive class of travel, though government agencies can authorize upgrades in the case of long flights lasting more than 14 hours, medical disabilities or "exceptional" security circumstances where sitting in coach would endanger the official's life or government property.
As head of the EPA, Pruitt has been on the front lines of the Trump administration's efforts to roll back a suite of Obama-era regulations governing climate change and pollution, making him a target for environmentalists' anger. Even before he took the helm of the EPA, Pruitt was fighting the agency from the outside, as an Oklahoma attorney general that participated in more than a dozen lawsuits challenging its rules and regulations.
The shift to first-class travel began after May 2017, when EPA officials saw how recognizable Pruitt was to the general public, Barnet said. There were "incidents where he was being approached -- vulgar language, people were being somewhat aggressive towards him -- and so the special agent in charge provided documentation -- a memo -- to me and up the chain of command requesting the administrator be placed in business- or first-class to avoid these potential issues for the safety of the administrator."
The less-populated, smaller quarters of first-class allow special agents to quickly respond to possible threats, Barnet said.
EPA spokesman Jahan Wilcox said the agency submits a security-related waiver for each trip Pruitt takes.
The EPA also has been hiring and training a dozen new security agents to provide Pruitt with around-the-clock protection. An internal threat assessment is being conducted every 90 days.
And at times, fellow airplane passengers have taken to Twitter and Facebook to highlight Pruitt is on board their flight, said Nino Perrotta, the EPA special agent in charge who has protected EPA administrators going back to the George W. Bush administration. Perrotta described a "high level of unusual interest in the administrator," calling it the most he's ever seen while safeguarding EPA chiefs.
In October, Pruitt told Bloomberg News he was facing what security officials described as "unprecedented" threats. That includes threats to family members, Barnet said.
Before it's here, it's on the Bloomberg Terminal.
LEARN MORE